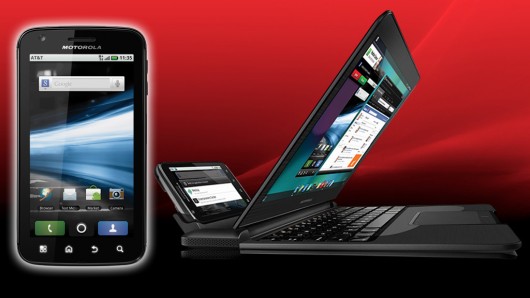 You friendly Gear Diary team has been paying attention to the Motorola Atrix for quite some time–Dan, for example, got some hands-on time with it all the way back at 2011 CES.  But now the Atrix is a bit old hat, and maybe (if you got yourself one) you've been thinking it's time to move onward and upward to the latest hot Android device, preferably one running a later version of the OS.  Well, good news!  Motorola is having a bit of a deal for you:
The best of Android is coming soon to the next generation of Motorola smartphones. With Android 4.1, Jelly Bean, enjoy new and improved features that make getting through your day easier than ever.

As a current owner of MOTOROLA ATRIX 4G, you're eligible to receive a $100 rebate* when you purchase and trade up to one of our new Jelly Bean upgradeable devices.

Ready to trade up?

Get started!
Do you have a Motorola Atrix and you've been wanting to move on?  This offer might be what you've been waiting for.  Surf on over and check it out and if you take them up on it, be sure to tell us about below!