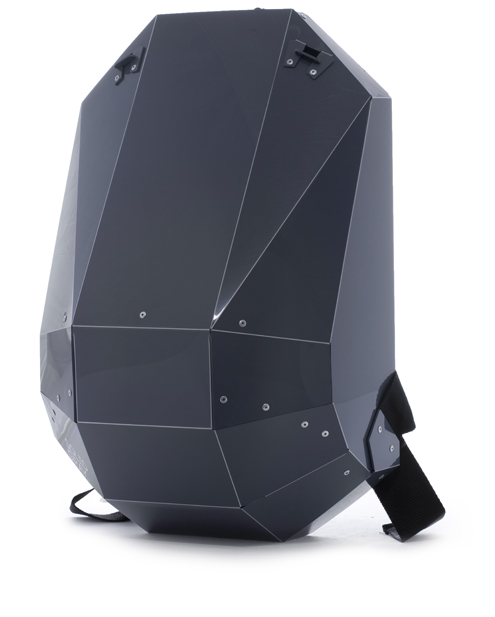 So okay, one problem with backpacks is that they're typically soft.  Which is fine–preferable in fact to my mind–when you're carrying a bunch of stuff that is resistant to squishing, scratching, and abuse.  Textbooks, say.  But nowadays, we're all carting around laptops and tables, right?  And you don't necessarily want your laptop (or tablet!) to get that kind of abuse.  Which is why the Solid Gray backpacks exist:
Since the introduction of our white backpack, our on-line community has grown considerably. We have received suggestions, and we have been taking notes!

After vast public demand we have released a new version of our backpack on it's 1st birthday.

It took us some time to get our taylor-made industrial plastic in a new color, but there it is; the new Solid Gray in Dark Gray! This new edition has an entirely different style and feel.

Specifications

Carries tablets and laptops up to 15,6 inch
Volume: 15 litres
Weight: 1150 gram / 2.535 lbs
Exterior dimensions: 50 x 32 x 20 cm (19.7 x 12.6 x 7.9 inch)
Material:
body: polypropene block copolymer
padding: EPDM
straps: polypropene
elastic: natural latex rubber
rivets: aluminium
(I love that it's "aluminium" rather than "aluminum", but that's because I'm a word geek.)
You can check out all the Solid Gray backpacks on their web site and look them up on Facebook.  The packs go for an MSRP of €139 (€159 for the White-Script model) And if you should end up getting one, be sure to tell us what you think below!