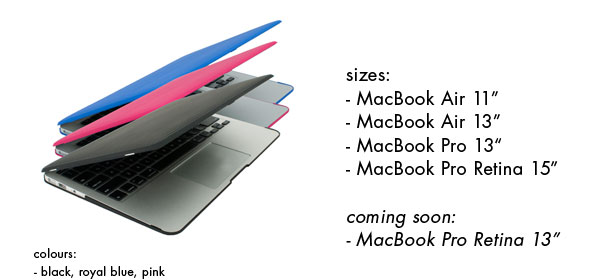 So you have a pretty, new MacBook Pro or MacBook air. Shiny! Smooth! Nice! And you want to keep it that way. But you don't want to add a ton of bulk to it–after all, one of the reasons to get a MacBook–particularly a MacBook Air–is that it's so thin and light, right? So what do you do? Well, maybe you need an STM grip skin:
A great way to protect and carry your MacBook while keeping it looking and feeling slim and svelt. The moulded tactical plastic protects from bumps and scratches and the soft micro suede lining keep dust away and the aluminum case looking showroom new. Unique "grip" textured finish keeps the laptop secure in your grasp.

*Easily snaps on to top and bottom of MacBook

*Hard shell protection from bumps and scratches

*Soft touch grip finish helps you hang on to your laptop

*Micro suede lining stops dirt from getting into the case and scratching your laptop

*Integrated rear vent and raised feet to dissipate heat
Sound like the right thing to cover your precious gear? Surf on over and check out their selection and if you get one, be sure to let us know about it below!