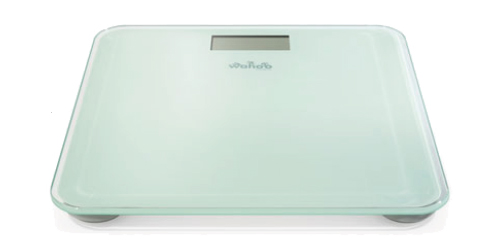 I don't know about you, but when I saw the headline on this news piece my first thought was, "What, this is an app that will need me to be stepping on my smartphone?  No way!"  But that's not what it is at all, as you might guess.  No indeedy; the idea is that you get a Bluetooth enabled scale from these folks, and it talks to your smartphone, and that way you can keep better track of your weight.  Check it out:
Wahoo Fitness, the leader in iPhone powered fitness, running and cycling, reveals the Balance Smartphone Scale. Using Bluetooth Smart technology, the Wahoo Balance tracks your weight and BMI over time, sending weigh-ins instantly to your iPhone or iPad App. Pre-order today for $99 on www.WahooFitness.com, shipments will go out first week in December and customers will receive their new Wahoo Balance iPhone body scale in time for the holidays.

Simply step on the scale and your weight and BMI are sent wirelessly via Bluetooth Smart technology direct to the new Wahoo Wellness App (coming soon to the Apple App Store) or to any compatible health & fitness App. Set different profiles and weight goals for up to 16 different users, syncing weight info to one or multiple devices. The Wahoo Balance's internal memory holds up to 130 weight readings, allowing you to weigh-in at any time with or without your iPhone and sync when it's convenient for you. Using today's top health & fitness Apps like TactioHealth, users can track their progress with a plethora of charts, graphs and data points.

Currently Wahoo products are compatible with over 110 different health & fitness apps. At launch, the Balance Smartphone Scale will be compatible with TactioHealth, Target Weight Pro, Target Weight for Adults, MyNetDiary, Monitor Your Weight, Monitor Your Weight HD, iBody, Lose it! (coming soon), as well as the Wahoo Wellness App.

Wahoo Balance Smartphone Scale features include:
• Set profiles and weight goals for up to 16 different users
• Easy-to-use one step activation, makes it quick and simple to generate weight and BMI data
• Sync with the Wahoo Wellness App or your favorite compatible health & fitness App to see weight/BMI charts and graphs
• Internal memory holds up to 130 weigh-ins, so you can weigh yourself with or without your iPhone and sync when convenient
• Compatible with iPhone 5, iPhone 4S, iPad (3rd and 4th generations), iPad mini and iPod touch (5th generation)
• Available today in the U.S. for pre-order at WahooFitness.com.

Ships: First week in December, will arrive in time for holidays.
Price: $99
Product Page Link: http://www.wahoofitness.com/products/wahoo-fitness-wahoo-balance-smartphone-scale.asp

The Wahoo Fitness Balance scale for iPhone is available today for pre-order.

For a complete list of Wahoo Fitness compatible Apps, please visit www.WahooFitness.com/Apps.
So if you're looking to get some help getting your weight back down to normal after the holiday eating season finishes, maybe this is what you've been looking for.  Surf on over and check it out and, if you use it, be sure to let us know what you think below!