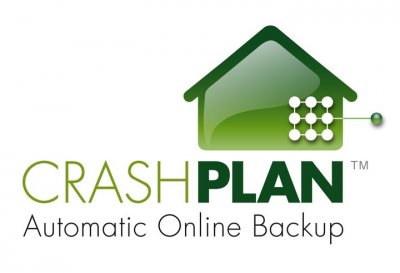 The only thing more of a pain in the tuckus (or as we say around the ol' Gear Diary Facebook chatroom, a PITA) than setting up and maintaining a regular backup of your system is when you don't do it, and suffer a catastrophic mess.   In my case, for example, I had been diligently backing up my system to a local external hard disk, when the external hard disk failed.  But before I could go in and get myself a new one, the very next morning my laptop hard disk failed, too!  What a friggin' mess!  But you don't want that to be you, so maybe CrashPlan is something you should consider, especially when they're having a Black Friday sale:
CrashPlan backup software and online backup makes it easy to keep data safe, ensuring that you're never caught without an up-to-date backup. CrashPlan allows you to automatically backup your data to the computers of your friends and to a secure, online backup destination. Also, CrashPlan is the only data backup software that is compatible with all operating systems (Windows, Mac, Linux and Solaris).

Who: CrashPlan+
What: 50% off all CrashPlan+ 1 and 2 year subscriptions
When: November 23rd
Where: To purchase, visit: www.crashplan.com/bigsale    

The sale starts at 6:00AM CST on Friday, November 23rd.  The discount starts at 100%. As time ticks away, the discount will decrease every two hours until it reaches 42% at 2:00PM CST on Nov 26th. So the sooner you buy, the more you save!
Sound interesting?  Surf on over and check it out and if you end up using it, be sure to let us know what you think below!