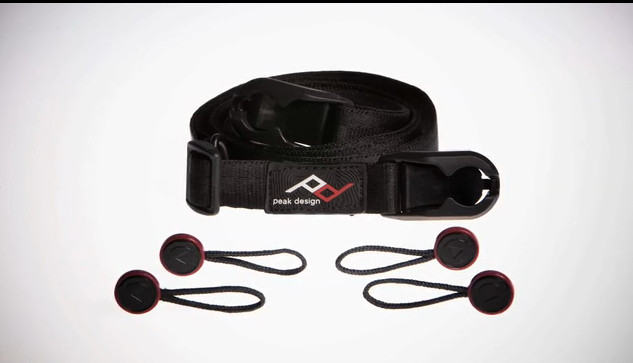 I won't comment on what this implies about my brain, but my first thought when I saw the title of this Kickstarter project my first thought was, "Some kind of electronic dog leash?"  (My next thought was, "We're thinking of putting collars on photographers now?")  But no!  These folks have acknowledged something that shutterbugs have known for a long time:  Most camera straps kinda suck.  And they're doing something about it, durn it!
Project Title: Leash and Cuff
Status: Active
Closing Date for Funding: 12/14/2012
URL of the Project: http://www.kickstarter.com/projects/97103764/leash-by-peak-design
From the Creatives: 
The Leash started out as a safety strap for the Capture Camera Clip.  During the design phase, it became apparent that the Leash could be so much more.  First we realized that this safety strap could become a neck strap if we invent the right connection system. Then we realized that the neck strap could be the perfect sling if we make it long enough. Lastly, we saw that the whole system could be shrunk down into an amazingly useful hand strap.
Leash and Cuff took a long time to design because we wanted it to do every thing you could possibly want from a strap.  We mean it when we say, "We think you're going to love it."
HERE'S THE PROBLEM
Traditional camera straps are a pain to remove and even harder to attach.
Existing quick-connect systems are bulky, often leaving connectors hanging off your camera body.
Whether you're using a sling strap or neck strap, it can only attach to your camera in one way. Cameras change size and shape with different lenses grips and uses, and your strap should be able to connect wherever it makes most sense
Straps are often bulky and expensive
When using Capture, you might feel the need to have your camera tethered to your body
HERE'S THE SOLUTION
We believe the Leash will become the go-to camera strap for active photographers of all types and abilities, and this is why:
Brand new quick-connection system: We designed a connection system (patent pending) that is instant, secure, unobtrusive, and elegant. Small anchors attach to any loop on your camera or gear. By using a "cow hitch"…the simplest, most effective knot there is, it can withstand 200 lbs of force, making the Leash strong enough to stop any camera from falling.  How'd we do it?  Engineerin'.
Endlessly configurable strap: The Leash's simple design allows it to adjust to twice it's own length. This means that in addition to using it as a neck strap, you can extend it all the way to become a sling strap. We also added an Anchor on the Leash itself, which lets you connect one end of the Leash to your clothing/gear and use it as a fully-adjustable safety strap or video tensioner. For those wanting something even smaller, we created a downsized version of Leash called the Cuff – it uses the same connection system and acts as a minimalist wrist strap.
Rugged, Minimalist Design: The strap of Leash is made of a special ¾ inch seat belt style webbing and its quick-connect clips are made of lightweight glass-filled nylon resin. These materials are ultra-durable (we guarantee them for life) yet compact enough to fit in your pocket. This means that Leash will always be there when you need it, and can be easily stowed away when you don't. It looks sleek and simple, and glides smoothly against your shoulder and chest.