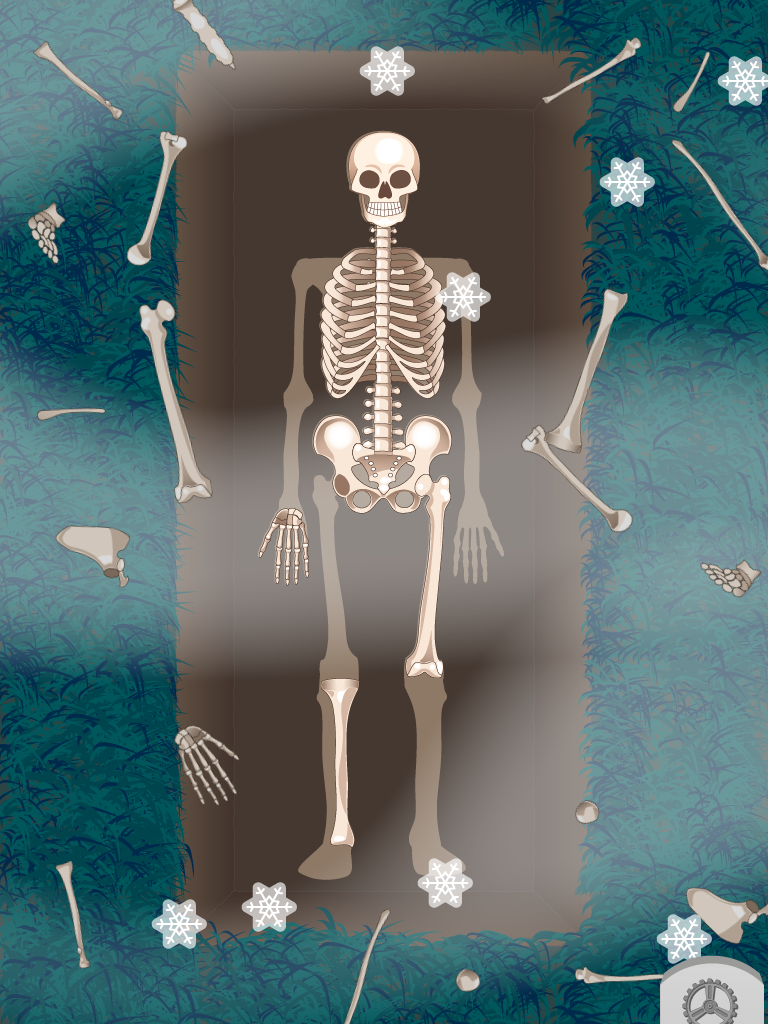 One thing that I absolutely love about the iPhone and iPad is that a lot of app makers really seem to be taking up the gauntlet and using the power and capabilities of the devices to produce learning and teaching apps that go way beyond a static book.  I personally think that TouchPress is the leader in this game, but there are absolutely a bunch of other companies out there right now putting out some fascinating stuff.  (The various astronomy apps are also good examples.)  And here's another one on the human skeleton by isygames:
Raquel Sanchez Anzola, founder of isygames, an innovative new mobile application developer focused on creating educational games, has today is thrilled to announce the release of a new version of D. Bones for the iPad, iPod touch, iPhone and iPhone 5. This unique app gives kids of all ages the opportunity to learn about the human skeletal system via an entertaining puzzle game, knowledge quizzes, and supplemental information about every major human bone!

Designed with vibrantly illustrated cartoon graphics, D. Bones encourages users to remember bone locations and advance their knowledge of the skeletal system as a whole in a dynamically engaging way. Thanks to our users comments, in version 1.2 we have added two new features:

* Now, you can listen to the name of the bones
* Users can switch off the snow if they prefer to make the puzzles in a more relaxing way

An educational gaming experience that supports both Spanish and English languages, D. Bones is comprised of three unique categories. As mentioned, the puzzle area of the app challenges young users to put together a cartoon skeleton by rotating different bones into their correct positions. Meanwhile, three included difficulty levels ensure that the puzzle stays accessible to any level of student. As an added entertaining bonus if players take too long to complete their game their skeletons will start getting covered in snow, which they'll need to clear off if they hope to finish!

Getting onto the more educationally focused portions of the app, kids are able to review information on all the major bones of the body one at a time via enlightening informational flash cards. Though not a full overview of the skeleton, these supporting texts provide users with a perfect mobile supplement while learning about the skeleton. Lastly, a visually immersive knowledge knowledge quiz is available to test how well users know the bones of the body. Complete with a beautiful soundtrack, an intuitive user friendly interface, and enough learning content to keep young kids engaged for hours on end, D. Bones is anything but a bare bones iOS experience!

Device Requirements:
* iPhone 3GS, 4, 4S, 5, 3/4/5 Gen iPod touch and iPad
* Requires iOS 4.3 or later
* This app is optimized for iPhone 5
* 12.8 MB

Pricing and Availability:
D. Bones 1.2 is $1.99 USD (or equivalent amount in other currencies) and available worldwide exclusively through the App Store in the Education category.

isygames: http://www.isygames.com/index.html
D. Bones 1.2: http://www.isygames.com/app_en.html
Purchase and Download: https://itunes.apple.com/app/d.-bones/id490087923
Now the email we got at Gear Diary indicated this is for kids but you know what?  I think lots of adults might find this stuff fascinating, too.  So surf on over and check it out and if you get it, be sure to let us know what you think below!