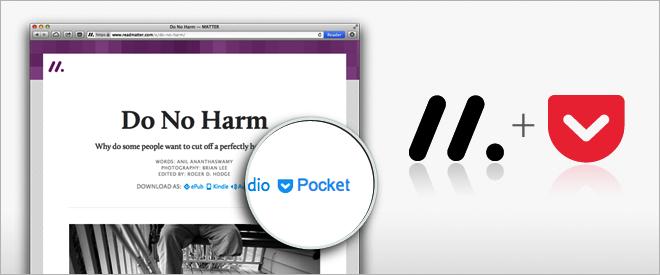 Pocket is the app formerly known as 'Read It Later', and while simplistic that accurately describes what the app does. You are online and see something you want to read but don't have the time – so you save it for later. Of course you could bookmark the link, but what if you know you will be offline and have reading time? That is where Pocket comes in – you simply save the content from your browser, Twitter, and more than 300 other apps that support the extension.
So what does this have to do with Matter, and what IS Matter? Well, it is a Kickstarter-supported startup with the goal:
to create a digital publishing company for original longform storytelling in the realm of science, technology and the future.
You can head to their site for more info on Matter.
With the partnership, now when you subscribe to Matter for $0.99 a month:
it means you can also access their stories in Pocket. Using our Site Subscription feature, you'll be able to quickly save MATTER stories to Pocket—and when you're in Pocket, you can log into MATTER to begin reading it.
You can get all of the details – as well as links to grab the Pocket app and subscribe to Matter – at the announcement page. Check it out!