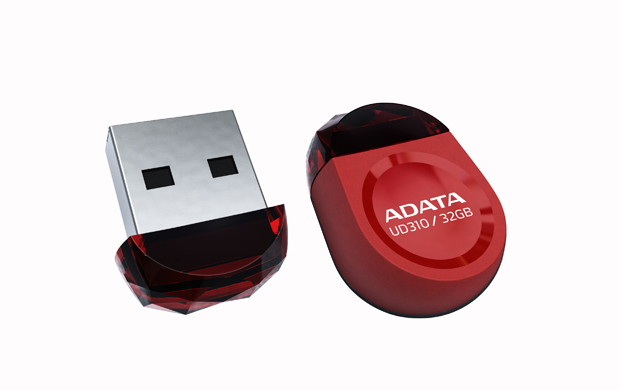 Yes, I know I've gone on about it before, and I'm sorry, but it's still absolutely amazing to me to see how memory technology has progressed.  I remember having an argument with a guy on USENET (look it up, kids!) in the late 80s about whether AI was possible and he insisted that we could never have enough memory available in such a small space.  Ho ho.  I mean, you can fit the whole Library of Congress on a thumb drive these days.  And they keep making them smaller:
ADATA™ Technology a leading manufacturer of high-performance DRAM modules and NAND Flash storage application products, today announces the release of the DashDrive™ Durable UD310 USB Flash Drive, a tiny, water resistant USB flash drive with an attractive gem-like appearance.

The UD310 is manufactured through a special chip-on-board (COB) process, resulting in high water and impact resistance for the drive. A sparkling jewel-like faceted end-cap highlights the ultra-small and extremely portable design that takes up no space when used in a laptop or desktop. It allows for unrestricted sharing of pictures, music and videos, making the UD310 an ideal accessory for Ultrabooks and various slim and sophisticated electronic devices.

The UD310 will launch in capacities of 8, 16, and 32 gigabytes and is available in red and black. Purchasers of the UD310 will be eligible for a free download of ADATA's proprietary UFDtoGO software, an indispensable tool for maintaining and updating personal data when on the road.

Availability

The DashDrive Durable UD310 USB Flash Drive is now available at 

Newegg.com

, 

TigerDirect.com

 and 

Amazon.com

 at a MSRP of $7.99, $12.99, $21.99 for 8GB, 16GB and 32GB, respectively.

For more information, see the company website at: 

http://www.adata-group.com/index.php?action=product_feature&cid=3&piid=199&lan=us
Looking for a new thumb drive?  Maybe this is what you've been wanting.  Surf on over and take a look and if you get one, be sure to let us know about it below!