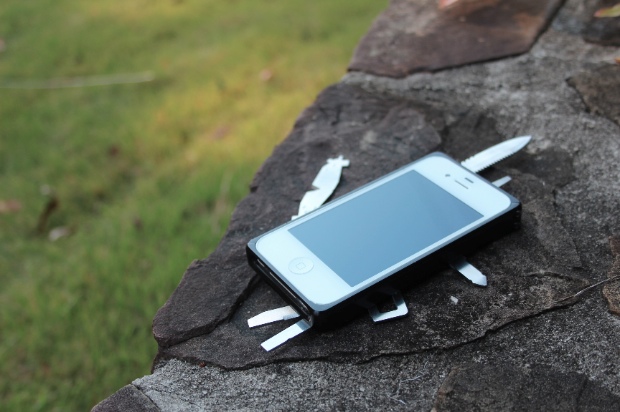 I carry my iPhone with me basically everywhere.  And that's why, when I tested out the CM4 iPhone case that has a card slot on the back, I knew it was right for me because I also like to carry my ATM/credit card everywhere, too.  Looking through my shoulder bag here, among other things I tend to take when I leave the house–driver's license, pen, car keys–is also my trusty Swiss Army knife.  Now I'm looking at the picture of the case above and thinking, "Why the heck didn't I think of that?"  But lucky for you, TaskOne did, and soon you'll be able to buy one of your very own:
TaskOne is a product that breaks the mold and defines a new product class. Sixteen of the most useful tools are engineered into a package that adds no more thickness to your phone than a standard case. And at 89 grams you won't even notice it is there!  Utilizing quality hardened tool steels, aircraft aluminum, and polycarbonate,TaskOne is the next generation of multi-tools.

Here are the answers to a few of the top questions that we get about TaskOne:

Q. How can I fly with this case? A. The knife is removable in a few seconds with no tools so it can be left at home or stashed in your checked luggage. In the event that you forget, we sell replacements for only a few dollars! See a VIDEO here.

Q. Will using the tools break, damage or scratch my phone? A. Nope, the housing and tools are designed so that no harm will be done to your phone even during heavy use. We have tested the case and tools on both iPhone 4 and 5 bodies to failure under extreme bending and torsion and have designed the hardened steel tools to bend before any damage is done to your phone. See the test videos under the video tab for proof! See a VIDEO here.
Look like a good solution for your "I hate having to carry so much junk around; can't I decrease it?" problem?  You can see video and images of the case in action at www.indiegogo.com/taskone or on their website at www.thetasklab.com (where you can pre-order).  And if you end up getting yourself one, be sure to tell us about it below!