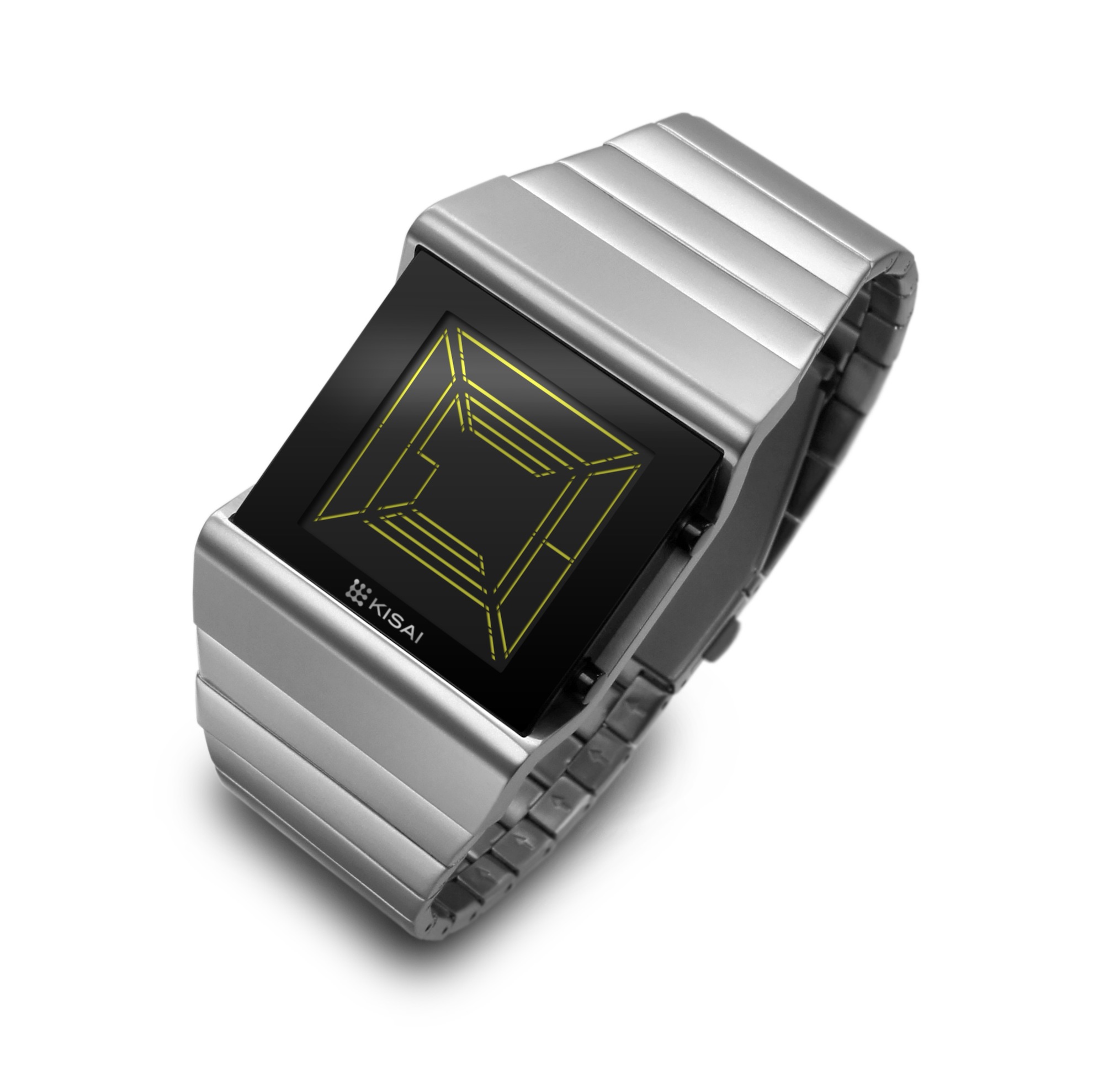 Image courtesy of Tokyoflash
The goodness just keeps on coming from Tokyoflash this year. There are so many options to choose from, it's difficult to figure out which one(s) to ask Old St. Nick to stuff in your stocking this year. Today they announced another frontrunner for the Kisai line dubbed the "Kisai Space Digits LCD Watch." This by far is my favorite design of the year, mostly because when I see the design one thing comes to mind….Luke's X-Wing Targeting computer complete with a "Warp Speed" animation. The watch sports a square face and has a depth like effect with the time on the left and right and the date on top and bottom. The horizontal and vertical lines are slightly angled to give a perception of depth and have an overall appearance of pure intergalactic beauty. You can pick up this watch in 5 color combinations included a rare gold band color. The LCD comes in gold or green while the stainless band selections are the black, silver or gold. All the standard features apply with all Tokyoflash watches and you can bet they threw in a nice $30 discount for the first 48 hours.
Image courtesy of Tokyoflash
"Inspired by intergalactic travel, Kisai Space Digits features a futuristic time display framed under a mineral crystal lens. The time and date are presented digitally on one screen in a compact and easy to read way."

Specs:

Displays the time and date
Alarm mode
Designed for small & large wrists
LCD "always on" display
Electroluminescent (EL) backlight (for night time only)
Stainless steel case, & clasp
Adjustable stainless steel strap
Minimum wrist size: 100 mm (approx.)
Maximum wrist size: 210 mm (approx.)
Case Dimensions: 37 mm x 50 mm x 11 mm
Weight: 150 grams
Water resistance: 3ATM
Battery: CR2025 standard replaceable watch battery
English instructions
One year warranty
If there is any time to get that geek what he wants for the holidays that time is now. This  Star Wars Intergalactic Space Travel inspired watch is a fantastic addition to any geek watch collection or first time Tokyoflash owner. For under $100 this could be one of my top contenders for my favorite Tokyoflash watch of 2012. You have limited time before the launch price ends so shoot over to the web site and order one up. Tokyoflash makes some of the geekiest watches on the market and their quality is next to none. I own a few myself and after the launch of this it looks like I'll be owning another before the year is out. Be sure to check out more info, pics and products over at the Tokyoflash site.
Image courtesy of Tokyoflash
Just in case you needed a reminder, this is an X-Wing (T-65) "Sightline" targeting computer (courtesy of Wookieepedia)
Does Lucas know about this watch?
Available: NOW
Price: $99 for a limited time, $129 after
via Tokyoflash