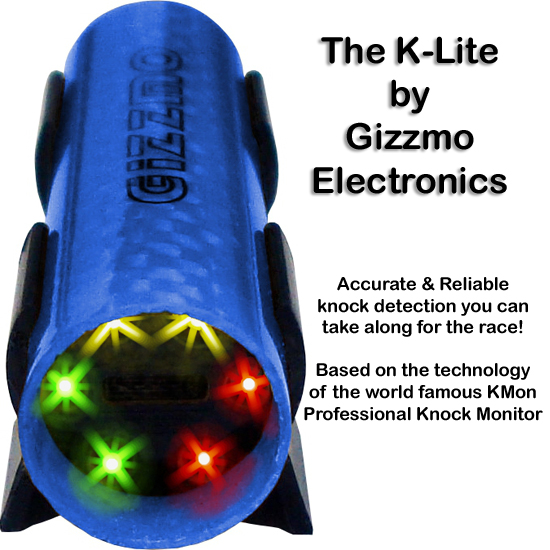 Do you worry about what condition your engine is in while driving around?  I don't, honestly; I feel a lot like Randy Waterhouse in Neal Stephenson's wonderful, "Cryptonomicon":
Until recently he would never have sat on top of his Acura because his considerable mass would dimple the sheet metal.  But after Amy rammed it with the truck, Randy became much less anal, and now sees it as a tool to be used until it is just a moraine of rusted shards.
Yeah, I pay attention to my car and take it in for regular servicing and what-not, but other than that I'm in the Randy camp.
But I'm not a car guy.  For car guys, you probably want that information, and aren't getting it from the standard dashboard idiot lights and gauges.  That's what Gizzmo's K-Light is for:
Gizzmo's K-Lite signifies a new evolution in engine protection. With 11 frequency & gain settings, 6 knock display levels, peak recall and housing 2 processors dedicated to protecting your investment, you know exactly how close (or over) the limit you are. The accuracy of the KMon in the size of a shift light. Available in Blue or Black

Why do you want a Gizzmo K-Lite?
Ask yourself a few questions…

What is your engine worth to replace/rebuild?
Did your tuner, reflash or chip employ a tune that suits your conditions/mods?
Is that last tank of fuel you got the same as what the car is tuned for?
How will you know if your fuel pump/injectors have issues causing a lean out?

There is a good reason that proper tuners and car manufacturers monitor knock, it's because knock is the most likely reason that your engine will incur some very costly damage. A Gizzmo K-Lite will let you know if you cross that fine line in between the 'ultimate tuned monster' and 'catastrophe'. We all know that the fuel from one service station to the next is not necessarily the same due to shelf life, additives, contamination etc. We also all know that cars feel different in summer vs winter due to air temp, humidity etc; so with all these changing factors, how do you know and monitor that your tune is still in check?

Why not just use an A/F Meter?

Using a wideband A/F meter is way better than using nothing at all…but…there are a few important things to know first. A lot of permanent mount A/F meters are 'narrow band' not 'wide band', this means they are for 'narrow band' sensors which can only accurately determine if you are above or below 14.7:1 A/F whereas a wideband can typically recognise from 8.5:1 to 19:1. A wideband is a very effective tool for determining your A/F ratio and as such will let you see if you are leaning out at the top end as a result of defective or incorrectly sized fuel pump/injectors etc. The K-Lite will also let you know if you're leaning out because if you are leaning out to a critical point, you'll get detonation which the K-Lite will pick up on immediately, but here is the difference. The K-Lite can not tell you if the problem is ignition or fuel related, it will simply let you know you have an issue that needs resolving whereas the A/F meter will tell you you're leaning out e.g. the problem is fuel related.
With the K-Lite however, it will also let you know if you have knock be it from high intake temps, bad fuel, incorrect ignition/fuel mapping, a faulty EFI sensor, ignition fault etc, anything that can cause knock and blown up your pride and joy where as an A/F meter will simply let you know your A/F ratio. Typically tuners will use a wideband to get the A/F ratio in the ballpark and then advance the ignition/lean out the fuel whilst utilising a knock monitor to determine the limits of the tune. So essentially, while there are similarities, the K-Lite and A/F meter are two quite different tools. When tuning for real horsepower, you need BOTH!
Sound interesting?  Well then, surf on over and check it out; it's available from the Gizzmo web site for an MSRP of $199.  And if you get it, be sure to let us know what you think below!