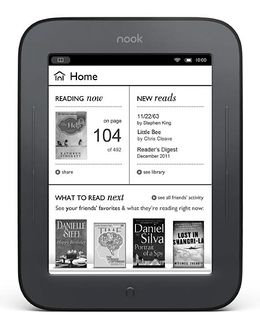 We are three weeks from Christmas, and B&N is trying to make your shopping even easier. They have slashed the price of the NOOK Simple Touch Reader to a jaw-dropping $79! This is a very impressive price for a small, touchscreen ereader.
This does make me wonder just how low prices will go. Who will be the first to sell a new, not refurbished ereader for $50? Amazon? B&N? A super cheap ereader is clearly coming…think the ereader equivalent of an iPod Shuffle. Something small, with less features. In the case of eReaders, the Simple Touch is darn close.
Another side benefit? All those folks who migrated their Fictionwise and eReader accounts can pick up a NOOK very cheaply!
The new price takes effect on December 9th, so get your wallet ready!