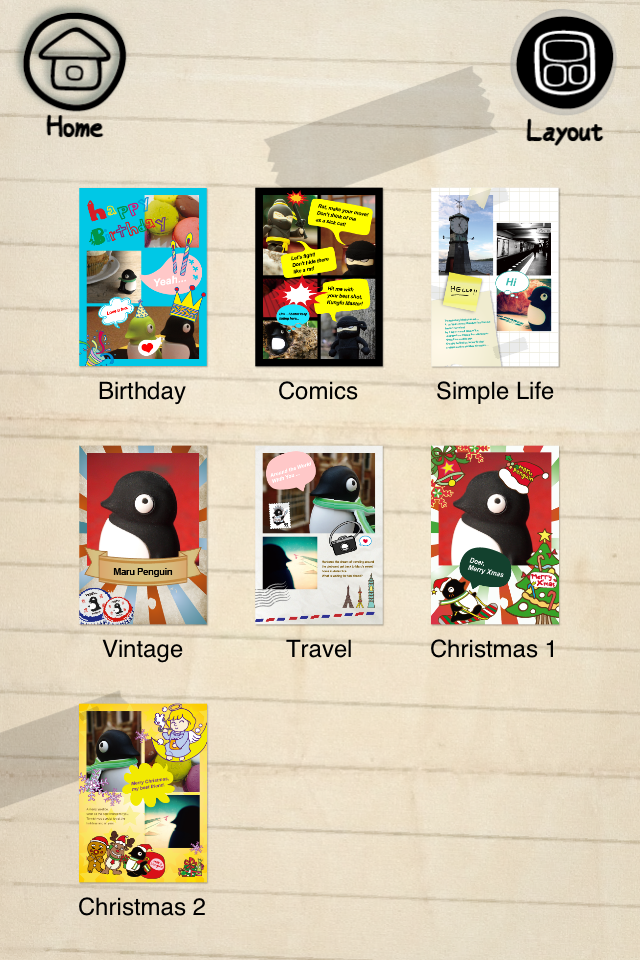 I can't draw a lick.  When I was a kid, I read a lot of comic strips–Peanuts, especially, but also B.C. (before it got so overtly Christian), Li'l Abner, Doonesbury, Hagar the Horrible, Wizard of Id, and whatever else they had in the Post on the comics page.  I wanted to draw strips myself, like Charles Schulz.  But I suck at drawing.  Maybe it's just that I was born too soon, and didn't have something like Maru Comics to help me.  (Or maybe it's that it was my destiny to be a writer.  Who knows?)
Can't get enough of Maru penguin and his "Penguin's World Detour" comics? Come "Marurize" your pictures and impress your friends with a DIY comic strip! Maru Comic includes wide selection of stickers, balloons and layouts that enable users to edit their own comic strip under easy operation. Users can also add special effect on the original photo by using filters or change the size of text, then share their own work on Facebook or Twitter. All you need to do is provide the idea and let Maru do the rest! Maru Comics is available for free on the iTunes Store.
Here are a couple of videos of Maru Comics in action:
Maru Comics ad
Maru Comics trailer
What do you think; want to give it a try?  Well why not; it's free after all!  Surf on over and check it out and if you do, be sure to let us know what you think below!