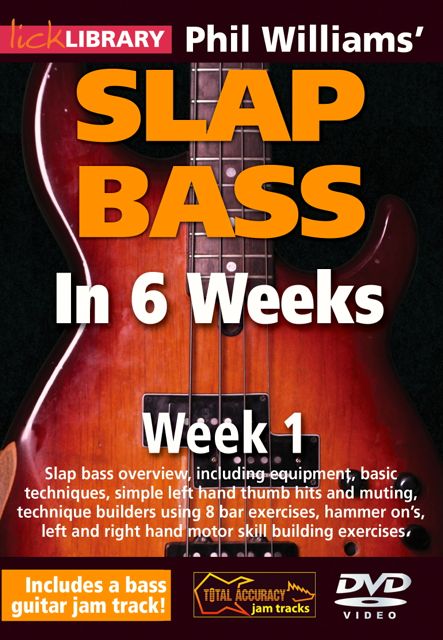 If you are a bassist or aspiring bassist, chances are you would like to learn or improve your 'slap & pop' technique. This is the sound that drives grooves in funk, smooth jazz and makes an appearance in pretty much every type of music. It adds rhythmic flair and a brightness that really adds to the overall impact of the music. Scroll to the bottom for a couple of great examples of the technique!
Suffice to say that regardless of what genre of music you favor, you want to know this technique – and being able to do it well will make you in demand and give your playing an exciting edge and flexibility!
Now LickLibrary has teamed up with in-demand session player and instructor Phil Williams to produce a six session course to take your from the very start to advanced techniques. Here are the details:
Slap Bass In Six Weeks, LickLibrary's new DVD six part set is designed to help you achieve the motor skills and technique necessary to master this style of bass playing. These DVDs offer a program of lessons that aims to get you playing slap bass from scratch to an advanced level in just six weeks!

Slap Bass In Six Weeks (RRP £16.99 per DVD or RRP £79.99 the set) is full of visual examples, which clearly depict what each of the tutor's hand is doing using a split screen. All the basics are included and starting from day one each bass lesson is broken down into manageable easy to follow sections looking at many of the techniques you will need. Even if you have never slapped before you will soon start sounding the part.

Week One: Overview techniques and equipment and starts introducing skill-building exercises.
Week Two: Looks at pops and pulls, introduces ghost notes and explains Machine Gun Triplets.
Week Three: Use of ghost note muting and shuffles in style of Mark King and Stanley Clarke.
Week Four: Introduces damped thumb hits and builds on Mark King rolling open string riffs.
Week Five: Complex bass lines, faster tempos and melody style riffs in manner of Marcus Miller.
Week Six: Tips and tricks, drop D tuning and combining and using techniques learnt over six weeks.

The DVDs also come with backing tracks, which are locked into the drums making them easy to play over and nail the techniques you learn.

Sharing these skills with you is highly sought after bass player – Phil Williams. He has played and toured with many well-known bands and artists as diverse as Gary Barlow, Roger Daltrey, and Keith Emerson to name just a few.
The courses are sold individually for $18.99 each or a combined set for $89.99.
Head to LickLibrary for more details on the Slap Bass in Six weeks DVD course!
And finally, here are some great examples of professional slap bass techniques:
Here is a quick home-video of Marcus Miller playing Run for Cover, which he wrote for David Sanborn's Voyeur album:
Jonas Hellborg is one of the fastest and most explosive players out there, with a monster slap-pop technique. Here is one of his solo pieces:
Grover Washington's Winelight has a great Marcus Miller slap-pop bass part, and you can get a real feel for how to integrate the technique: