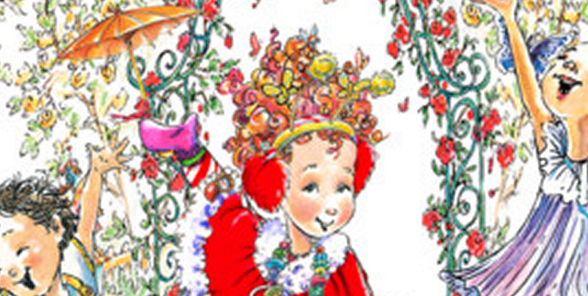 When my daughter turned 4 (I think it was), Sami and I had a "dress-up party" for her and her friends.  Sami gave her a big cedar chest that we had filled with dress-up clothes, and all the kids dug into it.  I don't remember what other things Sami organized at that party, but the dress-up chest was a big hit, and got lots of use over the next few years.  But hey, it's the era of tablets and smartphones, and Fancy Nancy, the app, is offering (of course!) holiday-oriented dress-up in-app buys:
Ooh la la…it's fa la la time for the bestselling Fancy Nancy!

The #1 kids book app and Apple Staff favorite, Fancy Nancy Dress Up, now features in-app purchasing to unlock new packs of clothing, accessories and stickers! 

Kids can now enjoy the complete Christmas Collection, with dresses, shirts, necklaces, shoes and decorative stickers to make the perfect Christmas dress up scene! Just .99 in iTunes and available today.

Be the first to experience all the fanciness by downloading the app at the iTunes store on your iPhone, iPad, or iTouch!

Mix and match hundreds of outfits from the Fancy Nancy books
Hear Fancy Nancy herself encourage you as you make her fancier and fancier
Create original pictures for an all-new Fancy Nancy storybook
Save and share your fantastique creations Insert Fancy Nancy into your very own photos
You can take a look at and download Fancy Nancy in the iTunes app store.  And if you do, be sure to let us know what you think below!