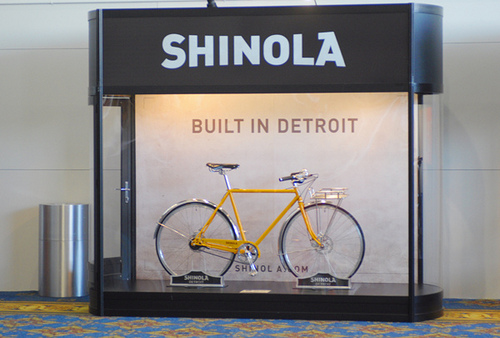 Image courtesy of the Lovely Bicycle blog
If you remember, during the run-up to the 2008 US Presidential election, and immediately afterwards when he was organizing a bailout (that worked, amazingly!) for the U.S. auto industry, Barack Obama talked a lot about American manufacturing, and how the U.S. does need to keep making stuff, both for ourselves and for export.  Ever since then, I've kept an eye on the news items we get here on Gear Diary for companies that are attempting to "make more stuff" right here in the U.S.  This is not a jingoistic perspective, really; I think every country should make at least some of the stuff that they consume.  And right in that category are the new Shinola Bikes:
Assembled in Detroit, and featuring a Waterford frame and fork, high-end components, and classic styling–the Shinola Runwell is a durable and beautiful bicycle with unbeatable performance. It is now available in very limited quantities.

Inspired by the enduring French style of Porteur bicycles, the Runwell delivers a classic blend of urban style and practicality. Meticulously designed to yield the best characteristics of a lugged steel frame and fork, we've engineered the Runwell to handle predictably and smoothly for city riding, commuting and errand running. Virtually maintenance free, courtesy of the high-end Shimano Alfine 11-speed internal hub, daily riders will never need to worry about adjustment, maintenance or exposure to rain and snow. Stopping power, in any weather condition, is assured with the quiet and smooth disc brakes. Internal cable routing keeps the cables out of sight and out of the elements. Racks and fenders fit easily on the frame. Responsive and predictable handling, classic and enduring style, low-to-no maintenance, stopping power in any weather condition— with a made in America frame and fork, the Runwell is truly a unique and worthy voice in the crowd. Men's 55cm in Red now available. Navigate right for detailed specs. TO ORDER, CALL US AT 1-888 304-2534, OR EMAIL info@shinola.com
Sound cool?  Then surf on over to their web site and check them out and if you get yourself one, be sure to tell us what you think below!