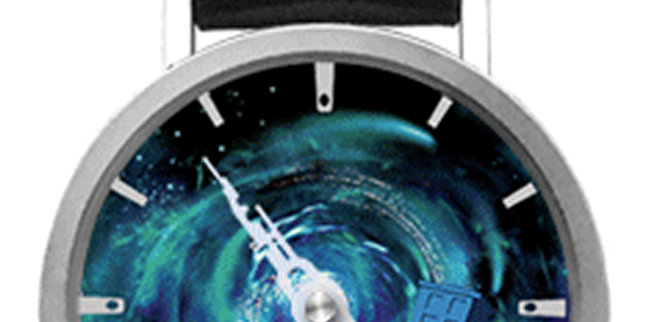 Okay, yes, I'm a total nerd, but I really love it when our buddy Jason from Gadgets and Gear sends us news about an interesting new item.  From Green Lantern watches to Air Guitars (with capital letters, yes) to light-up flashing shoelaces, it's always fun for me to see what they have now.  I mean, it's always nerd-friendly, if you know what I mean.  And what is more nerdly than Dr. Who, yeah?  (My Doctor?  Jon Pertwee.  I'm old, baby!)
Keep track of time and space like a real Time Lord with Doctor Who Watch!

Looking for the coolest geek gadget of the season? Keep track of time and space with Doctor Who Watch, just in time for Doctor Who's 50th Anniversary! Not only do the hands of this watch look like the Doctor's sonic screwdrivers, but the watch also features the famous TARDIS flying around the vortex at its own pace! Time travel may not actually be possible, but telling time has never been more fun! This official Doctor Who Watch makes a must-have gift for die-hard Whovians!
You wanting to get out there with your Dr. Who fandom?  Well, surf on over and check it out; MSRP of $49.95!  And if you get one, make sure to let us know what you think below!