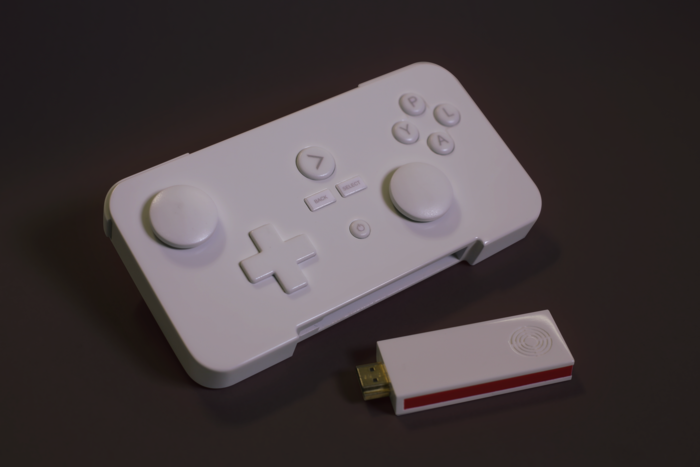 So there you are, playing your Android game on your tablet or smartphone, and you're thinking, "Man, I wish I could play this on my TV."  And then you probably think that someone must have come up with a way to do that.  And then you find out nope, it hasn't happened.  Yet.  But the folks who are working on the GameStick want to fix that lack.
Project Title: GameStick: The Most Portable TV Games Console Ever Created
Status: Active
Closing Date for Funding: 1/1/2013
URL of the Project: http://www.kickstarter.com/projects/872297630/gamestick-the-most-portable-tv-games-console-ever
From the Creatives:
There are over 1,416,338,245 TVs in the world but less than 1% of them are used to play games! Crazy.
We think that's because traditional games consoles and content are too expensive. So 12 months ago, we set out to challenge that by making the most affordable, open and portable TV games console ever created. At $79 GameStick offers the most affordable route to playing games on your TV.
Open
The mobile games market thrives on the use of open platforms and we wanted to bring the same ethos to TV. Open, so that more developers can innovate and develop quickly. Open, so that players can access more great games and get better pricing. Open because it's about time that the walls keeping independent developers out are smashed down. And so, harnessing the Android ecosystem, GameStick is a completely open platform. If you love creating or playing games, you will love GameStick.
Portable
People are always on the go. Traditional consoles are big. We set out to create a big screen games console that was so small you could pop it in your pocket. It's tiny! So small in fact that GameStick fits inside it's own controller so you can take all your games with you to any TV you like, anywhere. Simply plug it into the HDMI slot, grab the controller and play away.
Games
Using Android as the underlying operating system gives us access to all the innovation and content within the mobile, tablet and now PC world. At the last count, (we're still counting), there were 700,000 Android games in the Android ecosystem. So far we have identified 200 titles that will be great to play on GameStick but we are working with our network of over 250 developers including great studios such as Madfinger, Hutch, Disney and others to bring you the best line-up. What's really cool is that the average cost of a game on GameStick will be just a few dollars and many will be free to play.