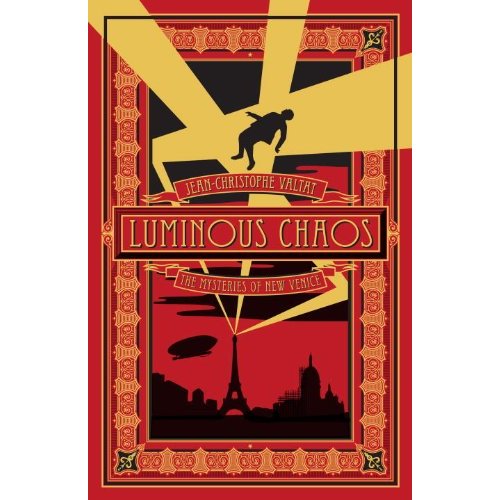 So I like science fiction.  I also enjoy stories that take place in really cold places ("Antarctica", "Kolymsky Heights", "Archangel"), and I'm also fond of Steampunk, Victoriana, and the Edwardian Era.  And the book "Aurorarama" attempts to blend all those elements together, along with a lot of word-play, inside jokes, odd allusions, and (let's be blunt) tons of drugs.  Set in "New Venice", a city plunked down in the Arctic Circle on Ellesmere Island (I think), it's a wild ride.  With weird prose–the author is a Francophone writing in English, which gives you some pretty weird constructions, to put it mildly.  (He also loves the double-negative.  Or rather, he doesn't dislike the double-negative.  Ha!  See what I did there?)
"Aurorarama" came out a couple of years ago, and I've been wondering when we're going to see the sequel, so I was pleased earlier this year to hear that "Luminous Chaos" was going to be released at the end of October, 2012.  Then, alas, it got pushed out.  Way out.  Way, way, way, way out.  Look:
Okay, yeah, Amazon:  I'm eager to get my hands on this book, but pre-ordering it 23 years in advance?  Seriously?  (And it should be "Douglas'", not "Douglas's".  No need to repeat the 's'.)
Clearly someone somewhere–the publishing house, Amazon, the IT department, who knows–blew it.  Or, given the playfulness of the author, maybe it's Valtat himself.  Who knows?  All I know is, 2035 is a durn long way away!