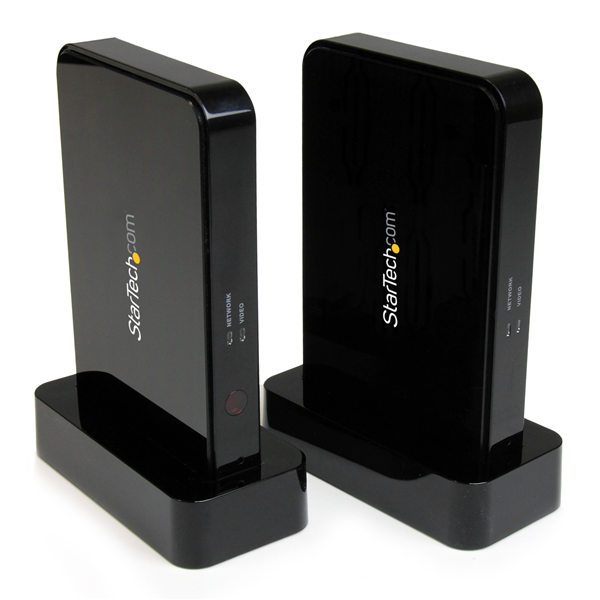 In a world where you can stream stuff from a cloud server pretty much anywhere, and where you have an Apple TV unit or some other box that converts the incoming bits and sends 'em to your TV, the big thing is bandwidth and range, right?  The last thing you want, when you're used to watching movies on DVD, is to have your throughput suddenly get chopped down, or your WiFi to not have sufficient reach.  So what you want maybe is an HD video extender kit, right?
The ST121WHD Wireless HD Video Extender Kit includes both a WHDI transmitter and WHDI receiver, enabling you to wirelessly send a full HD (1080p) video signal, as well as audio and IR, from a high-definition signal source to a remote HD display or projector located up to 30m (100ft) away.

The ST121WHD is a bundled kit, which provides both local and remote units, and an IR remote control, delivering a complete, end-to-end alternative for a single source-to-display digital signage connection.

A cost-effective solution, the wireless HD extender delivers full High-Definition video, as well as audio and Infrared (IR), eliminating the need for an expensive cable infrastructure to provide a wireless solution for settings where cabling may be undesirable, (e.g. in the middle of a room, boardroom, etc.) or difficult to install.

Compliant with both HDCP, and WHDI standards, this versatile WHDI transmitter/receiver kit ensures that even the latest devices will be able to pass a signal, with support for full 1080p resolutions and the accompanying digital audio. Plus, the kit enables you to control your source device remotely, using the IR extender for a complete HD extension solution.

Backed by a StarTech.com 2-year warranty and free lifetime technical support.
The StarTech extender kit is available for an MSRP of $329.99.  Surf on over and check it out and if you end up getting it, be sure to let us know what you think below!