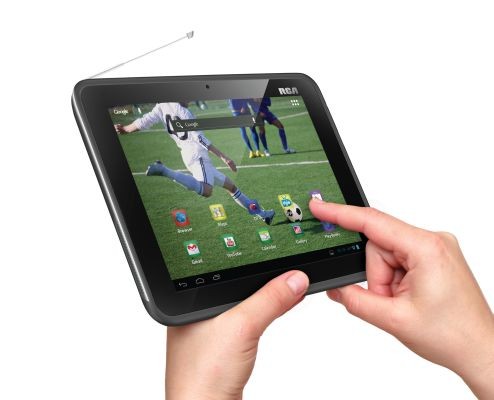 Back in the day before smartphones became ubiquitous, there was a very lively debate about "convergent devices".  That is, do you really want a single device that plays music, makes phone calls, plays games, keeps notes, and so on, or would you rather have a separate music player, camera, cell phone, and whatnot?  (For me, the answer was obvious:  Doug Want iPhone!  Now!  I was in the line for the iPhone the day it was released–an early day in Gear Diary history, BTW!)  But there are definitely arguments for having separate devices, absolutely, and RCA has been looking at the tablets and their TV technology and thinking, "Hey, why not carry your TV around with you, huh?"
The worlds of TV viewing and handheld computing come together in the new RCA Mobile TV Tablet (Model DDA850R) introduced next week at the International CES as the electronics industry's first dual-tuner mobile TV. This device will include a standard over-the-air DTV tuner, along with a mobile TV tuner that is compatibl e with Dyle(TM)mobile TV, a service that enables consumers to watch live, local TV while they are on the go. The RCA Mobile TV Tablet is the first tablet device to feature an integrated mobile TV tuner with Dyle mobile TV, offering viewers on-the-go access to 130 mobile TV stations throughout the country. With a stunning 8-inch screen, the RCA Mobile TV Tablet is both a portable TV set and a fully functional high-definition Android touchscreen tablet with Wi-Fi, dual cameras, and GPS functionality.

As the first tablet enabled with both an ATSC Mobile DTV tuner and Dyle mobile TV, the RCA Mobile TV Tablet is ideal for virtually any viewing environment — from the kitchen countertop to the back seat of a car. Dyle is now on-the-air in more than 35 markets, delivering popular network TV shows and local news. The RCA Mobile TV Tablet also receives mobile digital TV channels from broadcasters not affiliated with Dyle.

Other TV functions built into the device creating a one of a kind viewing experience include real-time signal strength display, on-screen program information display and digital closed captioning. Additionally, features like language settings, auto channel scan and a favorite channel setting enable the consumer to take the RCA Mobile TV Tablet and personalize the device to fit their needs.

Fully-Functional Tablet PC

With a bright 8-inch high-definition (1024×768) In-Plane Switching touchscreen, the RCA DMT580D is a fully functional WiFi 802.11b/g/n Android tablet featuring a Cortex A5 1GHz processor, 1GB of RAM, and 8GB of on-board flash memory. In addition to its unique dual-tuner design for reception of standard and mobile TV broadcasts (with built-in telescoping antenna), the RCA Mobile TV Tablet includes cameras on the front and rear of the tablet, twin speakers, integrated GPS, and USB, MicroUSB, MicroSD, and HDMI connectivity. Weighing only 1.4 pounds, the DMT580D also includes built-in WiFi, a Google search browser, and compatibility with the Google Play app store. The RCA 8-inch Mobile TV Tablet has a battery life up to four hours in mobile TV mode, or up to 10 hours when web browsing.

With a suggested retail price of $299, the RCA Mobile TV Tablet will be available this coming spring.
Is a dedicated mobile TV tablet something that you would be interested in? Be sure to let us know what you think below!