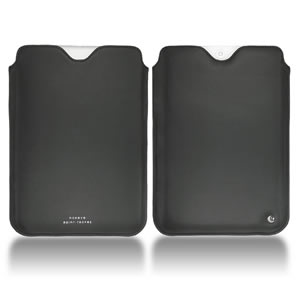 You know, I have a hard time bringing you all news about iPad mini gear.  Not because I don't like telling you about Cool New Stuff; no, it's because I really want an iPad mini (a lot), and I'm determined to not get one until they come with Retina screens, so I'm holding off.  Also, i don't "need" one.  I mean, back in the day when I was traveling basically every week, yeah, I could rationalize to myself that I "needed" an iPad.  And yes, having one did definitely make my life more enjoyable on all those dreary trips, and when I was stuck in a motel room wherever.  But now?  I work at home, for Pete's sake; I don't "need" an iPad, let alone an iPad mini.  So I told my brain:  "Hey, we'll wait until they come with a Retina screen, okay?  Back off!  We need to use that money for something else!"
But all those iPad mini items, man, they really stoke my gadget lust!  So despite my pain and agony, I want to bring news of these items to you, our faithful Gear Diary readers!  So here!  iPad mini item!  Check it out!
• Top quality handcrafted leather / Carefully selected materials
• Dynamic and reactive customer service
• Conceived for the most demanding customers
• 100% satisfied or your money back
• Fast and reliable worldwide delivery
• Delivery: immediate if in stock / 14 working days if not
And bien sûr,  Noreve Saint-Tropez is also bringing you other haute couture items for your mobile lifestyle: Check them out, and if you get yourself one let us know what you think below!