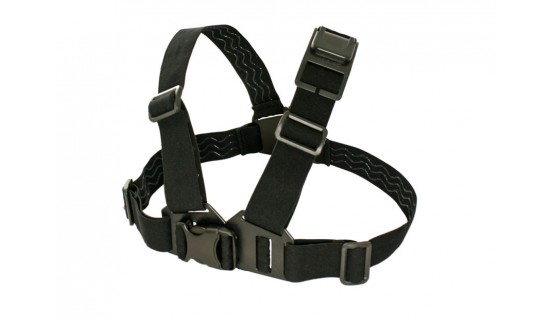 Due to an inflamed nerve and subsequent surgery following some skeet shooting with my Pop a decade ago, I can't do anything remotely "extreme".  No skiing, skateboarding, snowboarding, or what have you. And even when I was skiing a lot, I was not the level of skill where I might want to capture my ineptitude on camera for later analysis and derision.  If you see what I mean.  But plenty of people are of that skill level, and the question becomes, "How do I film myself without doing something stupid like, say, holding my iPhone in one hand while I'm schussing down a black diamond run?"  Glad you asked!
Now Drift Innovation is introducing the Drift Shoulder Mount with Harness. Wearing a shoulder mount allows the user "to place a Drift camera forwards or backwards, depending on desired perspective"  during their action sports activities. The harness is 100% compatible with the universal clip delivered with all Drift cameras including the Drift HD Ghost, the Drift HD and the Drift HD 720.  The harness is also now available in stock, with an MSRP of $39.99.
You been wanting to catch some of your own sporting moments?  Maybe this is the piece of gear you've been needing.  Surf on over and check it out, and if you get one, of course be sure to let us know what you think below!