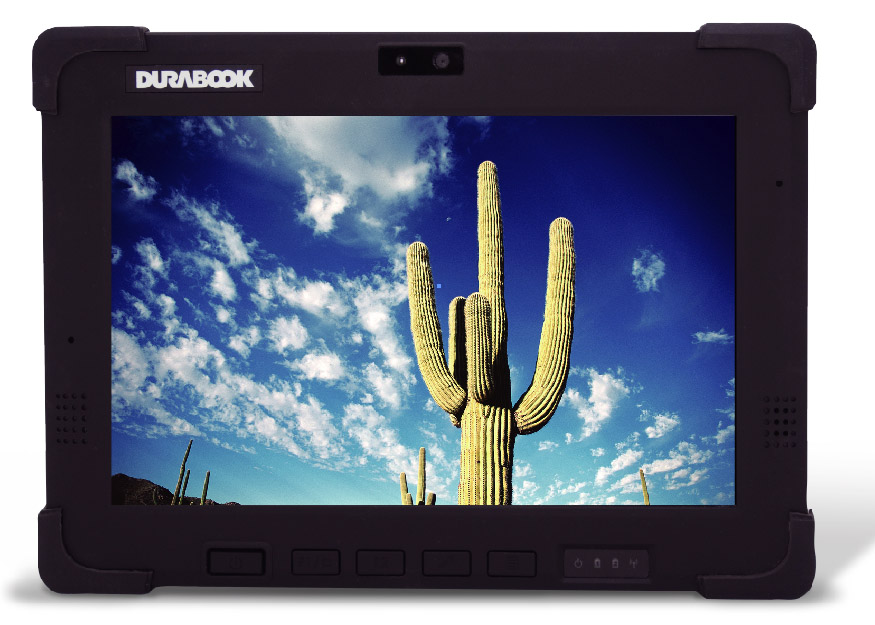 Way back at the beginning of my career in tech, when all PCs were beige boxes (with giant ugly beige monitors to go with them), I remember how astonished I was the first time I ran into a "ruggedized" PC. It had been sent to us for software installation, and was sitting on a desk.  It was big; really big.  50% thicker than a regular PC.  And it was green, not beige.  And inside, instead of a lot of dead air, there was padding, and a lot of the circuitry was encased in plastic or something.  And there were two fans instead of one.  Etc.  It was a military, ruggedized PC.  I was just stonkered, thinking about this thing being out on a battlefield somewhere.
But nowadays, the military isn't the only bunch who wants ruggedized stuff.  Plus now we have tablets, which are much easier to lug around.  So the concept of a ruggedized PC tablet is not very far-fetched any more, and here's another one coming at ya: the  semi-rugged ultra-mobile tablet PC (UMPC), Durabook model CA10, which will have a MSRP of $1,299.00, including a standard two-year warranty. "As with all GammaTech products, it may be customized to customer specifications."
You can surf on over to the GammaTech site and check them out and, if you happen to be at CES, take a look at their booth.  Yeah, it's expensive, but that's the price you pay for something rugged enough to withstand, I dunno, cannon fire.  Or being dropped on a rock while you're free-climbing or whatever.  Take a look and let us know what you think below!