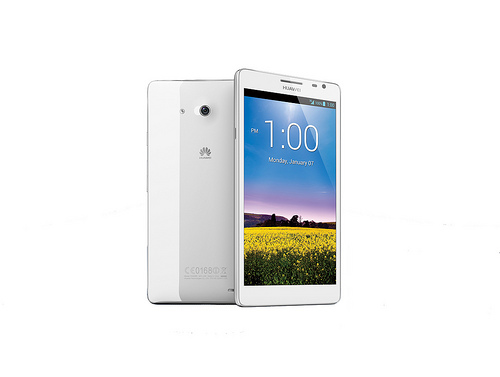 Okay, I'll be blunt on this one:  To me, a device with a screen over 6″ is just not a phone any more, it's a small tablet.  I mean, the iPad mini is what, 7.9″, and that's definitely a tablet.  And besides, how the heck would you fit something this durn big in your pocket?  It seems insane to me.  But then as Sami is so fond of pointing out, I'm weird.  Or to put it another way:  I'm not you, gentle reader!  So maybe a phone this size makes perfect sense to you.  (I will refrain from making a joke about "It's not the size that counts!" here.  Really!)  And if so, you're in luck
Huawei, has just launched the smartphone with the largest screen in the world, the HUAWEI Ascend Mate, which features a huge 6.1-inch HD display, a 1.5 GHz Hi-Silicon quad-core processor and a 4050 mAh battery.  It definitely has some interesting specs and, while I don't have any experience with Huawei devices in my gadget-loving history, it is probably worth at least a look.  If only for the novelty aspect of such a large flippin' screen, yo!
Intrigued?  Well then, surf on over to their web site.  And in any event, let us know what you think of a phone with a 6.1″ screen below!