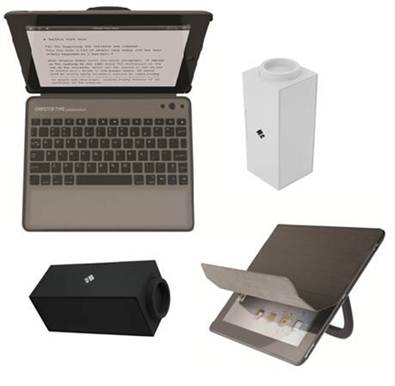 It may not seem so when you're wandering around the floor at CES (or reading our posts about same), but it's really not all multi-hundred (or thousand!) dollar gadgets on display.  Nope, folks just looking for some good gear for their iPad, or a decent new Bluetooth speaker that won't break the bank, are also represented at the giant Vegas show.  Case in point, Native Union's products.
Native Union unveils its latest innovations, SWITCH, a powerful, portable Bluetooth® speaker and conference call unit and two new additions to its GRIPSTER family.  Native Union's Gripster stuff is designed to help you with that perpetual problem:  Cool design often means that your new gadget is, well, slippery.  I love my iPhone–I mean, I really love it–and I think it looks beautiful, but one of the reasons I always put a case on it and live with the extra bulk (aside from safety) is, well, it's slippery.  Same with the iPad.  Some of the Android devices aren't so bad, but it can still be a problem, right?  Hence, the Gripster.
So now there's the GRIPSTER Wrap and GRIPSTER Type (all available beginning in spring). GRIPSTER prices start at $49.95. So hey, sound interesting?  Well then surf on over to the Native Union web site.  And let us know what you think below!