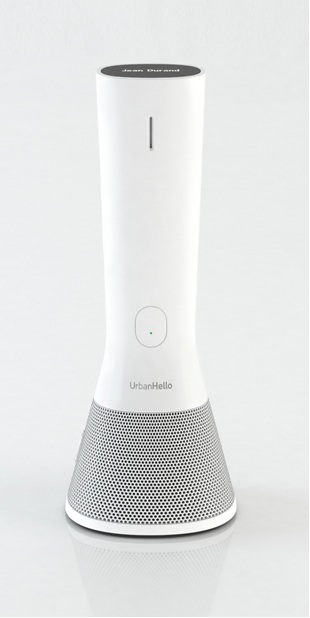 I've probably blathered on more than I should about form following function, and how designs go through stages, and like topics.  But it fascinates me, watching how the design of every-day objects changes over time as new materials, sensibilities, and modified tech come into play.  Like with cars, for example.  Or mobile phones.  Or even that old standby, your actual home phone.   I mean, if you've watched enough old movies, you know that the phone started out with you having to hold one piece to listen to, and another piece to talk into.  And then you got your handset that included both, with the dial on the base until.  Then you got buttons instead of a dial.  (I don't know if my kids have actually ever seen a dial phone in the wild, honestly.)  When I was a kid, we always had two phones in the house:  One phone attached to the wall in a central location, and another in my parent's room.
But phone design has of course continued to move along.  Speaking of which:
Designed with HD sound to give clarity to conversations and make them livelier, the
UrbanHello
 phone knows how to automatically transform itself into a loudspeaker when required and disseminates truly sublime and clear conversations. So surf on over to their web site and check it out. And let us know what you think below!