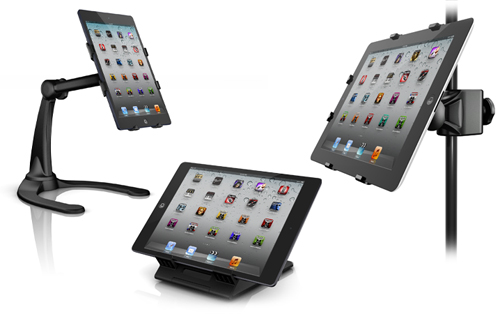 I really love the iKlip Studio for iPad, as I noted in my review, saying:
It is this way that the iKlip Studio works according to YOUR needs rather than forcing anything upon you that really makes me love the stand. I know that is a rather gushing appraisal for a simple iPad stand, but the truth is that the iKlip Studio is more than just a stand … it is an essential part of my music studio – wherever that might happen to be at the time.
Now IK has announced the next generation of that product as well as a new iKlip and an all-new iKlip Stand. These now work for the iPad Mini as well as iPad. Here are some details:
iKlip 2 – the new mic stand adapter for iPad, and the sequel to the original iKlip. The iKlip 2 for iPad and iKlip 2 for iPad mini are both priced at $39.99.
iKlip Stand – the desktop stand for iPad that has two independent articulation joints allow for adjustment of both the height and viewing angle, and it can be switched between portrait or landscape mode with a single gesture. The iKlip Stand for iPad and iKlip Stand for iPad mini are both priced at $59.99.
iKlip Studio for iPad mini is a tabletop stand designed for use on flat surfaces with apps that require energetic tapping and beat making and is the sister version to the very popular iKlip Studio for iPad. The iKlip Studio for iPad mini is priced at $29.99.
All these new iKlips will ship during the first quarter of 2013. For more information, please visit www.ikmultimedia.com/iklip2, www.ikmultimedia.com/iklipstand, and www.ikmultimedia.com/iklipstudio.
Based on how much I loved the original iKlip Studio, you can expect that I am very excited by the new accessories tailored around the iPad Mini. The iKlip Stand looks intriguing as I can see that being instantly useful and productive in a number of settings.