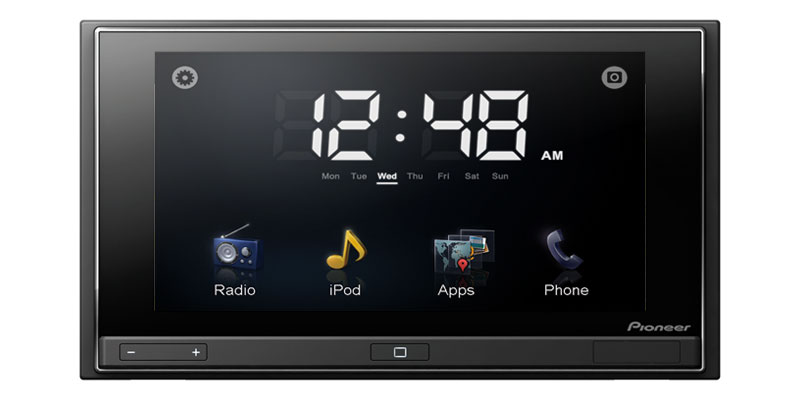 The release of the iPhone 5 and Lightning connector has sent manufacturers scrambling to provide updated compatibility with the popular phone and their devices. Pioneer is the latest entry, with new compatibility kits to help the iPhone 5 work with 13 different in-dash products. Here are some details:
Digital AV Solution
The CD-IH202 connectivity kit is an "all digital" connection designed for use with the AppRadio 2 SPH-DA100, AVH-X8500BHS, AVIC-Z150BH and AVIC-X950BH. The CD-IH202 will be available in March with a suggested price of $50.
VGA Solutions
Pioneer also offers the CD-IV202AV (for use with 2013 multimedia DVD receivers and the AVH-P8400BH) and CD-IV202NAVI (for use with the AVIC-X850BT and 2012 in-dash navigation receivers).  The CD-IV202AV and CD-IV202NAVI will be available in March with a suggested price of $100.
Pioneer also provided a Connectivity Kit Solutions & Compatible Products*
Category
Model

CD-IH202

HDMI

CD-IV202AV

VGA

CD-IV202NAVI

VGA

AppRadio
AppRadio 2

X

Multimedia DVD Receivers
AVH-X8500BHS

X

AVH-X7500BT

X

AVH-X5500BHS

X

AVH-X4500BT

X

AVH-X3500BHS

X

AVH-X2500BT

X

AVH-P8400BH

X

Multimedia Navigation Receivers
AVIC-Z150BH

X

AVIC-X950BH

X

AVIC-X850BT

X

AVIC-Z140BH

X

AVIC-X940BT

X
*NOTE: Apple's Lightning to USB Cable and Lightning Digital AV Adapter or Lightning to VGA Adapter are required with corresponding Pioneer connectivity kits.
This line-up of kits will help folks with the latest cool Pioneer gear in their cars make optimal use of their new iPhone 5 on the go.
Also at CES Pioneer is updating connectivity across multiple consumer product lines , as they note:
With 97% of smartphone owners in the U.S. using smartphones at home1, 83% while on the go, and 88% for entertainment purposes, Pioneer is committed to the integration of smartphone connectivity with its line of consumer electronics products to bring consumers that personal smartphone experience, whenever and wherever.
So aside from the in-dash audio, video and navigation products above, they are also making strides in the home audio and DJ products division. There are loads of great things coming from Pioneer – check it out!
For more information follow Pioneer on:
Twitterat twitter.com/PioneerUSA
Facebook at facebook.com/PioneerNorthAmerica
YouTube at youtube.com/pioneerelectronics