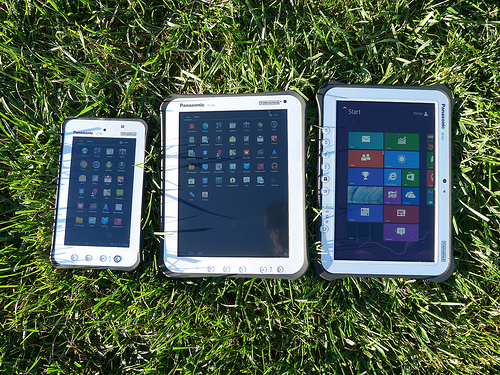 There's no question that the tablet market is really starting to rev up.  If you've been watching the news, you know that aside from devices like the Kindle Fire and the Barnes and Nobel Nook, plenty of other folks are following Apple in introducing tablets.   I've long been interested in the tablet platform, when back when Bill Gates was making noise about the so-called Origami project.  (Look it up!)  And while I do like my iPad quite a bit, as you know we here at Gear Diary are very happy to see competition in the tech world.  Competition is the key to pushing stuff forward.  (Would Apple have put out the mini without competition from Amazon and all their Kindles?)
Now at CES, Panasonic is hopping on board with a tablet designed for Windows 8; they have expanded their enterprise-grade line of Toughpad™ tablets by introducing the Toughpad FZ-G1, a 10" tablet featuring Windows® 8 Pro. In addition, the Toughpad JT-B1, a 7" Android™-powered tablet is now available.   It's certainly an interesting product set, and I'll be interested to see how well it competes moving forward.
Sound interesting?  Well then surf on over to their web site.  And if you do, be sure to let us know what you think below!