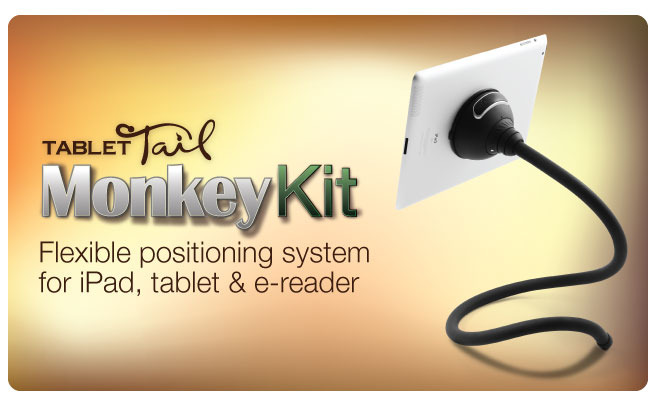 A few months back, I reviewed the TabletTail: Whale Kit, an interesting and innovative iPad holder and stand combo with a flexible "tail" that allowed you to use it as a grip and not just a stand.  Now the same folks are back on Kickstarter with their next project:  A flexible tablet position gizmo.  Now personally, one of the things I am always looking for with my iPad is a way to prop it up that is both stable, portable, functional, flexible, and attractive.  And to put it mildly, it is almost impossible to find all those things in one gizmo.  But in my constant search for a solution–okay, it's not constant, but you know what I mean, right?–this looked like a fairly interesting innovation.  And since I was pretty impressed with these folks' last effort, I wanted to let you all know about it. Check it out:
Project Title: Monkey Kit: Flexible Tablet Positioning System
Status: Active
Closing Date for Funding: 2/21/2113
URL of the Project: http://www.kickstarter.com/projects/octaproducts/monkey-kit-flexible-tablet-positioning-system
The Monkey Kit is available at http://kck.st/TXZy1O.  The retail MSRP will be $99.99, but Octa is offering a Kickstarter-only early bird special of $80.00.  If it looks interesting to you, I really want to encourage you to surf on over and check it out.