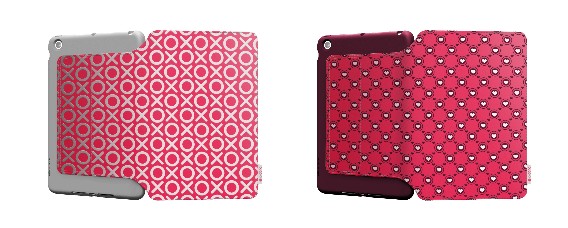 My team at my day job is what we in the tech biz call a "distributed group".  What that means is that we're scattered all over the globe even though we work on the same product–every timezone in the U.S., several in Europe, a couple in India, and so on.  And when you have a group like that, you generally get together once a year (or more often, if your company wants) for a face-to-face, or F2F as we like to say.  So my manager set the date this year . . . for the week of Valentine's Day.  Which needless to say doesn't make the partners of everyone very happy.  So maybe what you need to do is get your partner a little Valentine's Day gift.  Like maybe some gear for his or her iDevice, yeah?
SmartStyle Cases for iPad Mini – (MSRP $39.99) - Features a unique, puff-printed cover that wraps from front to back.
Dash Icon iPhone 5 Cases- (MSRP $29.99) - The Dash Icon combines a glossy polycarbonate with a unique puff-printed backings.
So are you wanting a Valentines Day-oriented look on your iDevice?  Maybe this is what you need.  Surf on over to X-Doria, and check them out; if you do, be sure to let us know what you think below!