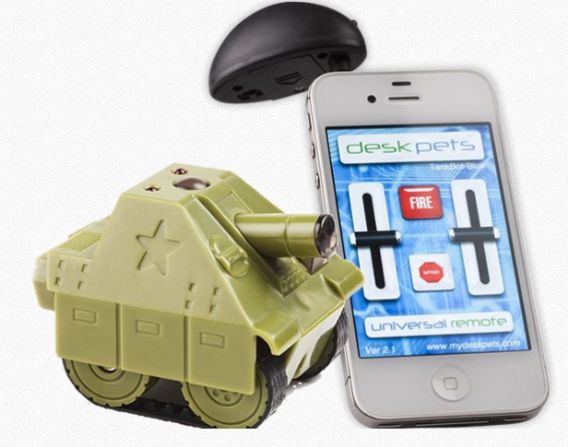 When I was a new dad, I would sometimes bring my wee ones to the office, just so they could see "where Papa worked".  (Now they see it all the time, seeing as how I work at home.  Not much mystery there!)  And being little kids, the first thing they wanted to know was, Where is all the fun stuff?  And because of that, and because I've got a lot of little kid in me, I had a drawer full of "office toys"; stuff you could play with and not look like a total and complete dork.  (I also had a few little kid toys.  Because: Kids!)  But you can never have too many toys handy if you're stuck at the office all day, right?  Which brings us to the BattleTank, "a palm-sized robotic tank that is fully controllable through both Apple® and Android™ mobile devices.  BattleTank comes equipped with two navigation modes allowing the tank to roam freely or charge into action to race and battle in multi-player mode."
Check out the BattleTank in action: BattleTank: Ready, Aim, Fire! 
Sound like something you need to help you through a tough day "at the office"?   BattleTank is available now for $24.99 at www.mydeskpets.com.  And if you get yourself one, be sure to let us know what you think below!