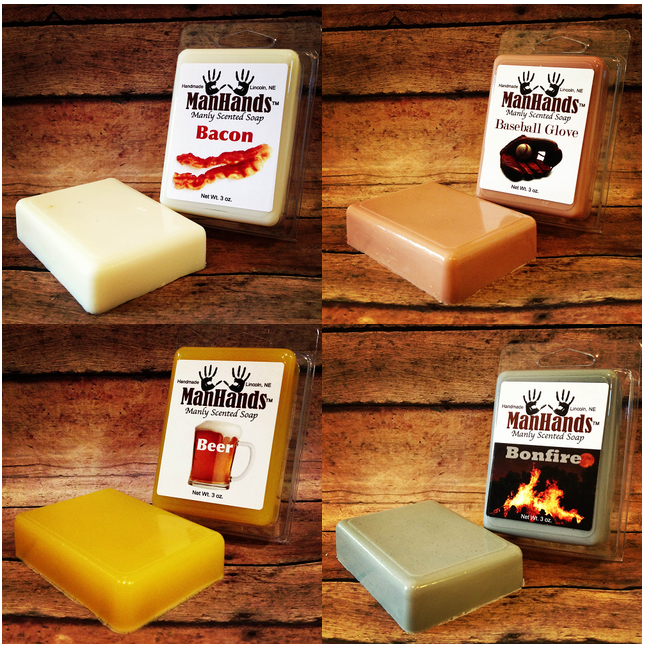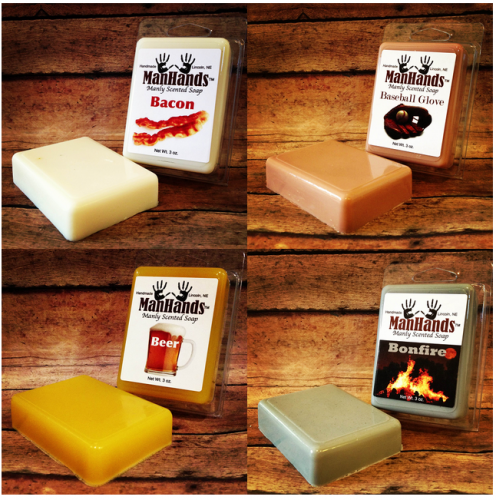 The thing about Pixar movies is that they frequently have jokes that kind of go by so quickly that unless you're paying attention–or not laughing from the previous gag–you might miss it.  So maybe you don't remember, but there's a scene in "Monsters Inc." where Sully and Mike are finishing up from the day in the locker room and they have this quick interaction:
Mike: Can I borrow your odorant?
Sulley: Yeah, I got, uh, Smelly Garbage or Old Dumpster.
Mike: You got, uh, Low Tide?
Sulley: No.
Mike: How about Wet Dog?
Sulley: Yep. Stink it up.
Pretty funny, I though; male humans want to smell like flowers or spices (or Old Spice), while male monsters go for stinkage.  But a cartoon!  Until now, man!  Now you can smell like bacon, or beer, or a bonfire, or even a urinal mint (ugh!).  So you too can "stink it up" like the guys in "Monsters Inc." if you want.
Naturally this product is available from my very favorite "off-beat nerd product site", Gadgets and Gear, who tells us that this soap comes in 19 manly-man scents, is hand-made and all-natural (and no, I absolutely do not know what that means in the case of, say, the "Republican" scented soap), and goes for an MSRP of $6.95 a cake on their site.
So if you decide to stink it up, be sure to let us know below!  (But not in person.  Please.  I get in enough trouble with Sami as it is!)