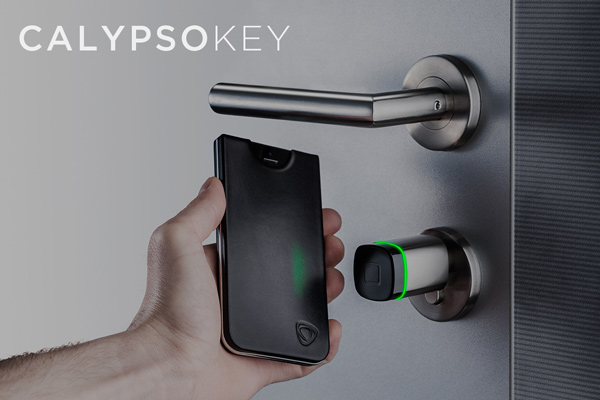 In case you were unaware (as I was for the longest time), "NFC" means "near field communication".  It is related to the method that is used in a lot of employee ID cards, the ones that you wave in the general direction of a dark receiver thingee near a door, and BEEP, it recognizes you and the door opens.  I think stores like Wal-Mart have experimented with having NFC tags in their items, with a receiver built-in to your grocery cart to detect what you've loaded in there.  But as you might expect, some companies are trying to branch out, and Calypso is making an NFC iPhone case to use this tech.
Calypso has developed a case that you can use in conjunction with their receiver so that you can ditch your old-fashioned keys–the kind that you get cut for you at Ace Hardware or wherever–and can just wave your iPhone in the general direction of your door to get in.  You can read all about it at their web site, but the gist is that there are three items that CalypsoKey is available for: CalypsoRing, CalypsoLoop and CalypsoCabrio. You have to buy the locks or access points elsewhere; Calypso recommends Kaba locking systems.
So if you've been thinking that you want to climb aboard this NFC bandwagon, but you didn't know how, maybe the Calypso NFC iPhone Case is the thing for you.  Surf on over to their web site and check it out.  And if you get yourself an NFC system, be sure to let us in on what you think about it below!
*I thought it was either some kind of business, or a league in the NFL! Really!