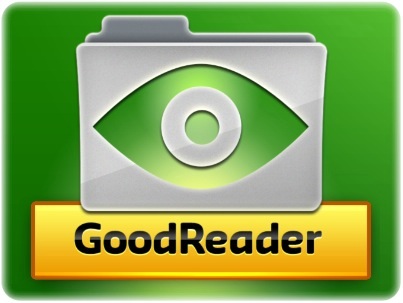 If you're not in high-tech and are reading this web site from the point of view of a typical consumer, here's a bit of jargon for you:  Software development kit, or SDK.  An SDK is a package of software that companies offer (sometimes for a fee, sometimes not) to encourage other companies and individual programmers to create programs that are integrated with their software.  So for example, Microsoft has SDKs to allow you to write applications to more closely tie your software in with Microsoft software.  And now GoodReader is offering an SDK for their eBook/eReader software to encourage 3rd-party developers (as we call them in the biz) to create apps more closely tied to GoodReader.
If you're not familiar, GoodReader is ostensibly a PDF reader for your iPhone and iPad, but it also allows you to read MS Office docs, iWork files, HTML and Safari web archives, high-resolution images, and even create your own files.  When I was traveling a lot and using my iPad for work stuff, I used GoodReader all the time (the look on the face of a coworker when I hauled my then-new iPad into her office to confer over a spreadsheet was worth the cost of the app all on its own).  This new SDK gives software developers a chance to hook into that functionality and offer closer integration with GoodReader's, um, goodness.
Sound like something you're interested in, or someone at your company might be wanting to think about using?  Well then, surf your fool self on over to the GoodReader web site and check it out.  (You can download GoodReader itself for a price of $4.99 from the iTunes app store.)  And if you do, be sure to let us know what you think below!