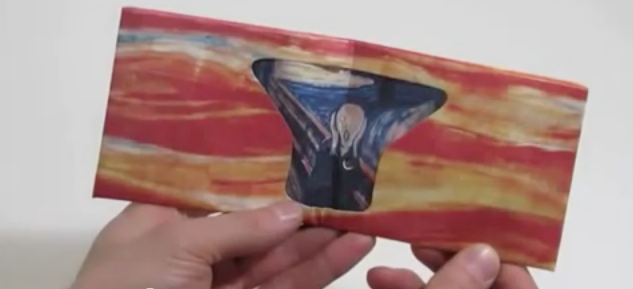 When I was in middle school, a friend of mine showed me his wallet.  On both faces of it when closed, it was covered with a velour-like material that made it a little more difficult to pull out of his pocket.  "No one can steal my wallet without me feeling it!" he said with a lot of pride.  I was a little dubious, but I still thought it was a good idea.  But what if you had a wallet that was more on the order of the one the troll had in "The Hobbit", that yelled out when Bilbo tried to pickpocket it?
As you might imagine, someone had a similar idea.  Now our friends at Gadgets and Gear can offer you several different varieties of wallets that, well, make noise, from ones that scream like Munch's famous painting to one that issues Shakespearian insults.  (I mean hey, why not?)  Exactly the kind of thing that I expect to see from our pal Jason Lazarus at G&G, to be honest with you.  (I love seeing his emails in my inbox.)
Sound like something you'd be interested in?  (See what I did there?  Huh?  Did'ja?)  Well then, surf on over to Gadgets and Gear and take a look; there are eight different styles of Sonic Wallets to choose from, each with their own sound/noise/sonic output, and available for an MSRP of $19.95.  And as always, if you get yourself one, be sure to let us know what you think below!