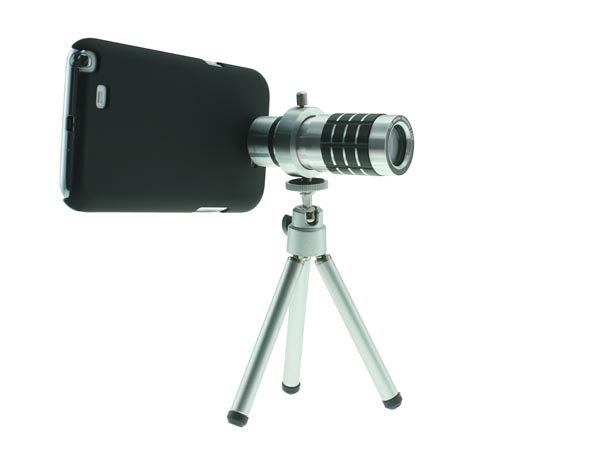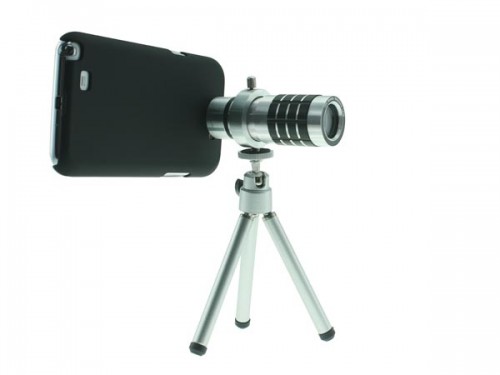 12X Telescope Lens with Hard Case for Samsung Galaxy Note 2 N7100
Sometimes, you want to enhance the lens on your smartphone, right?  So if you have a Galaxy Note, maybe you want to get yourself a case with a nice, telescoping lens on it like this 12x Telescope Lens with Hard Case for the Samsung Galaxy Note 2 by USBFever.
Now, most of the time when I do product photos for reviews for you loyal Gear Diary readers, I don't just use my iPhone to snap them, I go ahead and get out my "real" camera equipment.  I've been a shutter bug since middle school, when I used my Dad's (very nice) Zeiss-Ikon camera that he bought in his Naval travels in Europe.  For my college graduation, my Dad got me a very nice Nikon SLR with a camera bag and other accouterments.  And now, I have a quite nice Canon digital SLR, along with a high-grade tripod on which to put it to hold it steady for photos.
But that's just the thing, right?  My tripod is designed to hold the camera itself.  What if you want to use one of those smartphone cases that come with various lens attachments, and the attachment is kinda big and bulky and weighs down said camera?  Then what you need is something like the 12X Telescope Lens for Samsung Galaxy Note 2 N7100, which includes a tripod for holding up that heavy lens.  Cool, nu?
Wanting to turn your Samsung Galaxy Note 2 into something a wee bit more like a photography platform, then?  Surf on over to the USBFever site and check it out; it's available for an MSRP of $42.99.  And if you get yourself one, be sure to let us know what you think below!