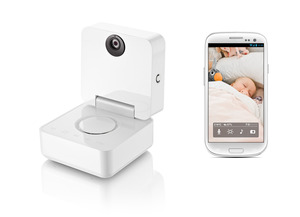 Android support for Withings' Smart Baby Monitor and the Wireless Scale announced at MWC
It used to be that the interconnectivity of gadgets in your house was expected Real Soon Now, but it didn't seem like it would ever arrive.  When I went to see the move "The Sixth Day", for example, the refrigerator that reminded you that you needed some milk seemed almost as far out as cloning.  (After all, we had already cloned Dolly the sheep, right?)  But now, with a huge networking infrastructure in place, and an amazing amount of computing power available in devices that you can easily cart around in your pocket (plus the move towards what we used to call "convergent devices"), smart devices like Withings' Smart Baby Monitor and Wireless Scale that can talk to your Android device are now becoming common.
Speaking of which, at MWC this week, Withings announced support for same.  Honestly, when I was a new parent, I would definitely have appreciated something like their new Smart Baby Monitor, which connects your wee one's monitor right to your Android device.  I don't like to think about scales much–they are my sworn enemy these days–but lots of folks appreciate having  a scale/app combo that recognizes individual users, and gives you access to Withings services in order to take control of your weight using an Android app, right?
If there's a person in the world who doesn't need either a baby monitor or a scale of some kind, I don't know 'em.  As long as you're not one of them either, you might consider surfing on over and checking these products out. The Withings Health Mate app is available for free from the Google Play Store. The Smart Baby Monitor is available from Withings.com for $249.95 / 249,95 €. The Wireless Scale WS-30, black edition, is available from Withings.com for $99.95/ 99.95 €