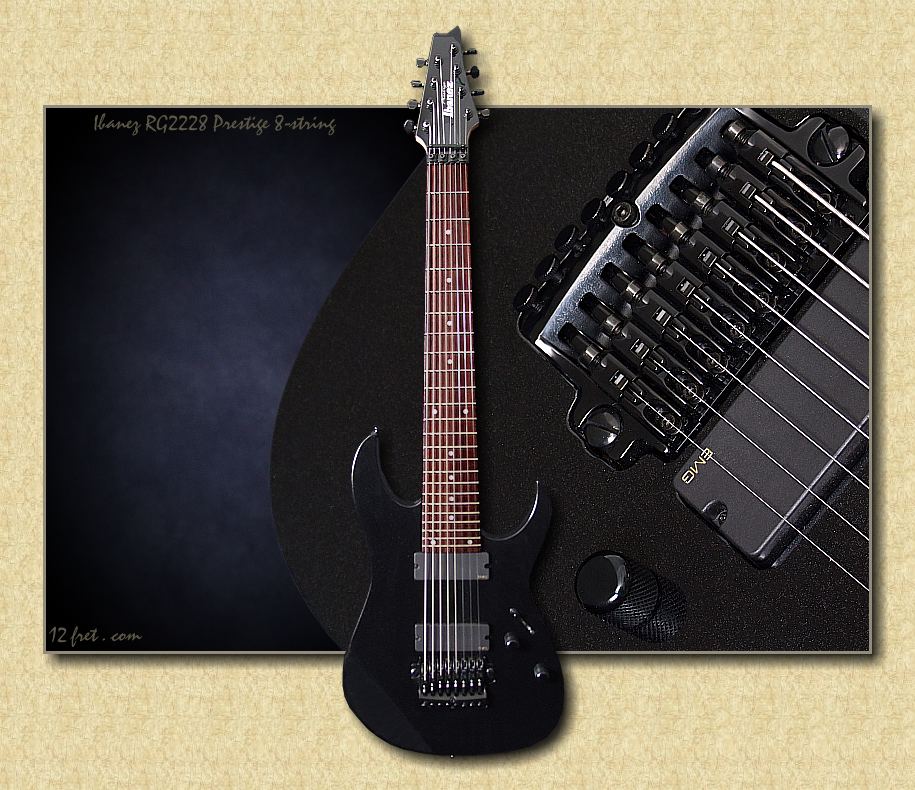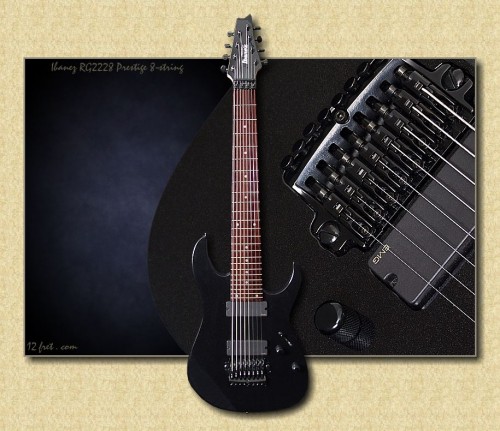 8-string Ibanez guitar, on which to slap your Rotosound 8 string set (Image courtesy of The Twelfth Fret)
So here's the thing:  Like any red-blooded American male since the year 1958, I tried to learn how to play a guitar.  And frankly, I stunk at it.  It's not that I'm unmusical, or am tone-deaf, or anything like that; definitely not, as I learned to play piano instead.  But some combination of the strumming and fingering just totally defeated me.  I tried to play bass guitar, at which I stunk somewhat less partly due to the fewer number of strings, but as I'm a writer now you can imagine that I hardly set the world on fire.  So it only boggles my mind–me, who could barely deal with 4 strings, let alone 6–to think of guitars with 7 and 8 strings.  But apparently they're becoming more common, which is why folks like Rotosound offer 8 string sets instead of the ordinary 6.
Rotosound's new 8-string set (R10-8) is part of their 'Rotos Yellow' series.  The gauges in this string set are 10, 13,17,30w, 42w, 54w, 64w and 74w (where w means a wound string).  The additional 64w and 74w strings give you tones down to a bottom B and F♯.  (I honestly have very little idea what any of that means, but if you're a guitar player, I'm sure you do, right?)
Got an 8-string guitar, or thinking of getting one?  Or need a gift for someone who has one?  Maybe this is a product you've been looking for.  Surf on over to the Rotosound site and check out what they have and, if you get a set, be sure to let us know what you think below!