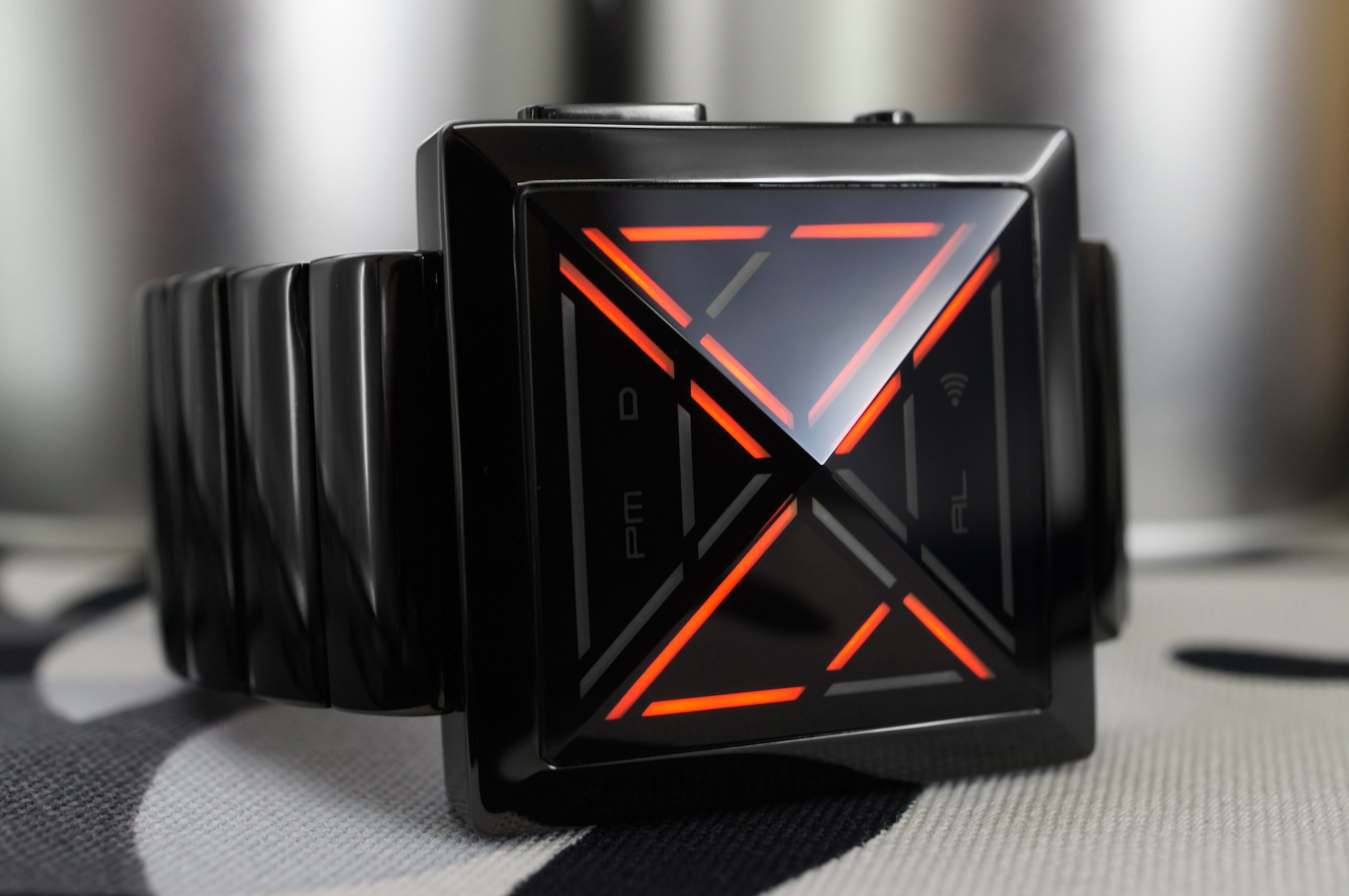 Earlier today, Tokyoflash announced the latest addition to the 2013 lineup, the Kisai X. The X takes me back a bit with Tokyoflash due to the fact that you really have to know how to "decode the time" to read the watch. On most of their current lineup, the time if very simple to read. I'm quite a fan of a cryptic display, which I feel is one of the things that sets Tokyoflash apart from the rest. The large square-faced watch comes in both natural or black stainless steel, and it has the choice of either a blue, green, or red display.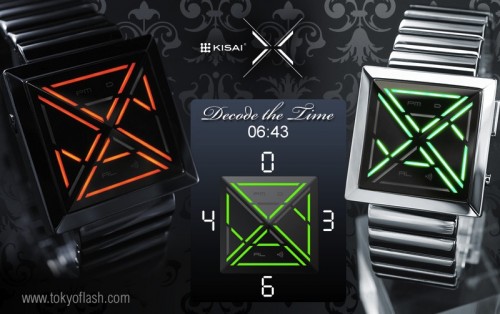 Image courtesy of Tokyoflash
Sharp lines of LED light shining through the dark pyramid lens appear to be a secret code. They are in fact regular numbers that present the digital time in an easy to read way. Inspired by cryptography, Kisai X features time, date, alarm and animation mode. Can you decode the time?
The Kisai X comes with the usual specs associated with most Tokyoflash watches. One of the benefits of these geek friendly watches is the ability to recharge them instead of having to replace the battery when needed. The first month your battery charge will likely go fast when you amaze your friends and family with light animations and your attempts to teach them how to read the time.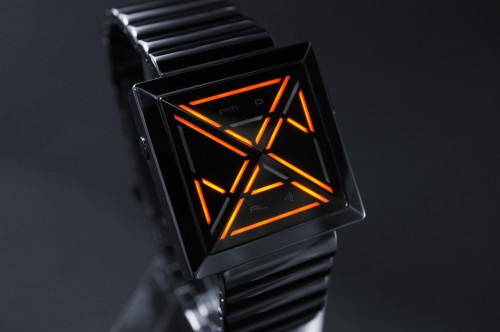 Image courtesy of Tokyoflash
Roll call for the X:
Displays the time and date
12/24 hour mode
Alarm mode
Unisex design for small and large wrists
USB rechargeable: unscrew & connect to your computer
USB cable and screw driver included
Light-up animation feature (can be turned off)
Solid stainless steel case
Adjustable stainless steel strap and clasp
Minimum wrist size: 100 mm (approx.)
Maximum wrist size: 210 mm (approx.)
Case Dimensions: 36 mm x 36 mm x 13.5 mm
Weight: 150 grams
Water resistance: 3ATM
Battery: PL301517 USB rechargeable battery
English instructions
One year warranty
The Kisai X is available now directly from the website for the special release price of $99. After Thursday, the price jumps up to regular MSRP.(usually $20-$30 more) Check out their site for more info on the Kisai X, as well as the design blog for more potential concept-to-reality watches in the works.
Via Tokyoflash