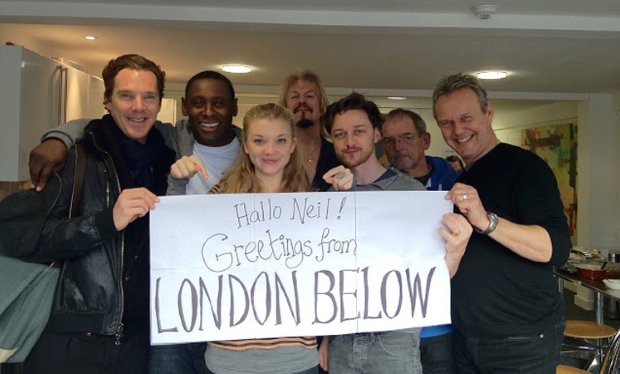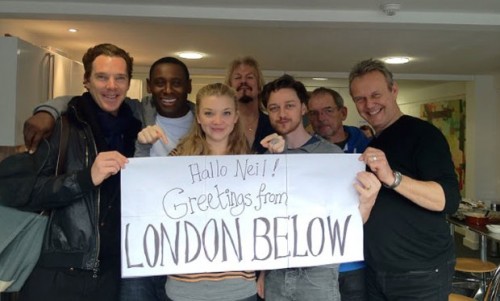 Cast of BBC4 radio play of Neil Gaiman's "NeverWhere" (Image courtesy of RadioTimes)
I quite literally just took my headphones off after listening to a broadcast–and believe me, the word "broad" is appropriate here–of the first episode of a radio play of Neil Gaiman's (absolutely wonderful–buy it immediately) book "Neverwhere". I jumped right on WordPress and started typing up this post because first:  I thought you all should know about this truly wonderful radio play, before it's all over (though it will be available as a podcast!).  But second, it got me wondering about the current age we live in, entertainment-wise, and how we may actually be experiencing one of them so-called "Golden Ages".
As a kid who grew up in the deep heart of the TV age ("The Brady Bunch"! "The Sonny and Cher Show"!  "The Love Boat"!  You get the picture.), I heard a lot from my grandparents–and certain Woody Allen movies–about "the Golden Age of Radio".  As I got older, I read about more "Golden Ages", from the Golden Age of Greece to the Bronze Age of comics.  They get defined a lot.  And in one book I read that "those that are in a golden age know not they're in it."  Being the contrarian jerk that I am, I felt that, hey, I'm going to keep an eye out for these things, dammit!
Which brings us to Neil Gaiman's "Neverwhere" (a bit obliquely).  "NeverWhere" was originally an urban fantasy TV show broadcast by the BBC in 1996 and written by Neil Gaiman right at the tail end of his award-winning run on the (also highly recommended) comic book "The Sandman".  Unfortunately for Gaiman (and we fans), the budget kept getting cut, and the show didn't achieve the standards Gaiman hoped for, or the ratings they wanted.  But Gaiman must have like the idea, because he turned it into the urban fantasy novel "NeverWhere", a book about a man who accidentally discovers a parallel London Below, the London of people who have "fallen through the cracks", and live in a magical version of London cheek-by-jowel with the London of the TV show "Sherlock" and the Queen and the London Tube and black taxis and such–ordinary London.  And not to put too fine a point on it:  I find "NeverWhere" to be absolutely wonderful.  One of my very favorite works by Gaiman, who is (in turn) one of my very favorite authors.  It's funny, and spooky, and sometimes terrifying, and all too believable.  I'm amazed more people haven't plumbed this particular world (and even more amazed Gaiman hasn't penned a sequel).  The juxtaposition of Richard Mayhew's quite-literal everyman character with all this bizarreness is riveting.  And now Gaiman has managed to get it produced as an excellent, top-notch radio programme.  (See what I did there?  Ha!)
And as I was listening to "NeverWhere", streaming it on my iPhone via an app, listening to its great acting, the sound effects, and all the other trappings of a great radio show like "The Shadow" or some such, it occurred to me:  We might be in a Golden Age of audio right now.  With the plethora of podcasts available, everything from analysis of the works of Sherlock Holmes ("The Baker Street Babes") to "Daily Show"-style fake news and analysis programs ("The Bugle", with John Oliver and Andy Zaltzman) to fan-inspired personal projects about canceled shows as various as "Firefly" and "Farscape" and (of course) "Dr. Who", to most anything you can imagine, really.  Polyamory; mediaeval culture; marijuana legalization; gun owners rights; anything.
Which is my point.  If this ain't a golden age of audio listening, with hundreds of shows and quite literally tens of millions of listeners, then I don't know what is.  But what do you think?  Podcasts and more portable listening devices and apps making this a sort-of golden age of audio listening?  Or is ol' Doug just blowing smoke?  Share your thoughts below!
Neil Gaiman's "NeverWhere" radio play is available for listening all this coming week on BBC4 Radio (if you're in the UK), or via radio streaming utilities such as the iOS and Android app TuneIn Radio.  At the conclusion, it will be available as a podcast for download–see the "Download-Drama of the Week" section at the bottom of the main BBC Radio4 NeverWhere page for info.  (But it has Benedict Cumberbatch in it, and that's probably enough for some folks, eh?)  Give it a listen!  (Or buy the novel.)