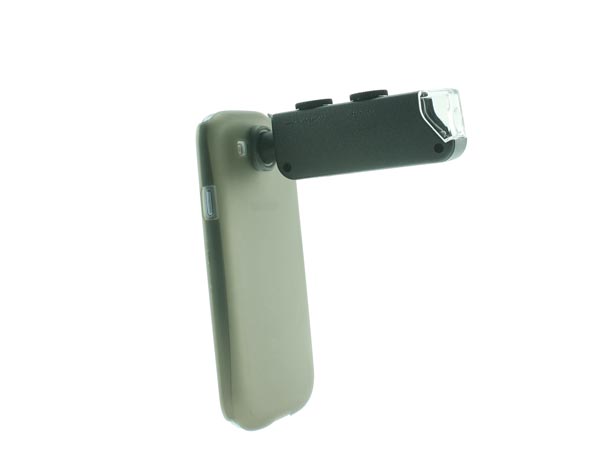 There are many, many camera accessories that you can hook up to your mobile phone nowadays–particularly iPhone.  And I've posted on a lot of them, because a) I'm a camera buff, and b) I just think they look either cool, or slightly ridiculous, and I like to call your attention to stuff in both those categories.  And now we have something from USBFever (naturally) that falls into the "both" category:  A 60~100X Zoomable Microscope for Samsung Galaxy S3 / i9300.  Which I wanted to post about because I've seen a lot of news items for zoom and other types of lenses, but this microscope was a first for me.
I don't know if this is the first zoomable microscope for the Samsung Galaxy S3, but honestly, my guess is that it is.  It has an LED in the front, an on/off switch, and zoom and focus controls (as you might expect).  And as with the Model T Ford, you can have any color you like, so long as it's black.  (I know it looks green in the picture, but the web site assures you it's black.
So have you got a Samsung Galaxy 3 that you've been simply dying to use as a microscope?  Or even if not, are you just curious about hooking a microscope up to yours?  Well then, surf on over to the USBFever web site, and check it out; it's available for an MSRP of $14.99.  (And of course as usual they're released a plethora of other accessories this week.)  And if you end up getting yourself one, be sure to let us know what you think below!