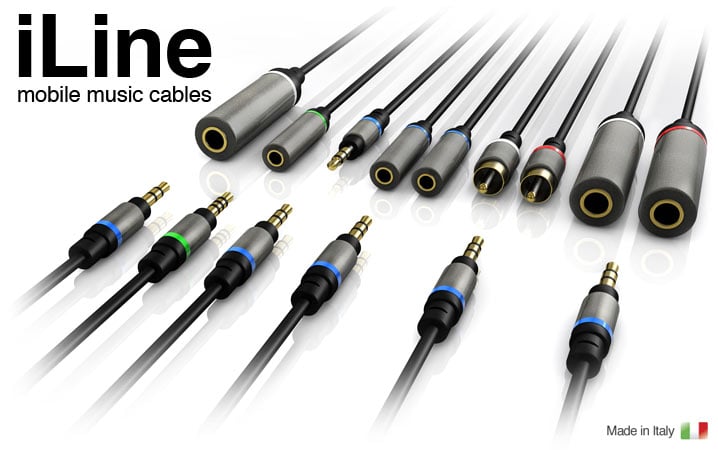 Back at CES in January IK Multimedia announced the iLine series of mobile music cables, which would be available individually or as a kit, for iOS and Android devices. The original expected deliver was in the first quarter, which just ended. Today we are announcing that IK Multimedia now shipping iLine music cable kit!
The need for these cables is clear: as mobile hardware improves, mobile music apps improve, and the quality of music made on mobile devices also improves. However, most of the cables shipping for mobile devices are low end thin conductors with cheap connectors. As anyone with music making experience knows, your signal chain is only as good as your weakest component, and without proper cabling it is increasingly difficult to get the dynamic range and low noise needed for pro level audio on mobile devices.
The iLine series is made to address this need, and they feature 24K gold-plated contacts and high-purity oxygen-free copper conductors to ensure the best connection with no loss of signal quality. In addition, they're equipped with high-density shielding to guard against electro-magnetic interference.
As noted, you can buy the cables separately or as a kit. Here is what is included with the kit:
Mono Output Adapter: can be used to connect a mobile device into a mono input such as on a guitar amplifier — it's great for use with IK's AmpliTube apps on stage.
Input Output Extension: makes it easy to extend the stereo output from a mobile device.
Stereo Aux Cable: this extra-long cable allows for long-distance cable runs, such as when connecting a mobile device to speakers or a car stereo.
Headphone Splitter: splits a stereo source, such as the headphone output on a mobile device, to feed two sets of headphones or speakers. It provides plenty of length to assure proper separation between the listeners.
RCA Output Adapter: great for connecting a mobile device to DJ gear and home stereos with RCA inputs.
Mono Output Splitter: this cable makes it possible to send the output of a mobile device into a mixing board.
Travel Case: helps to keep all of the cables together and organized.
The price for the kit is $59.99, which is close to 50% off the combined price of the individual cables. Each cable in the kit sells separately for $14.99 to $24.99.
Head to the iLine product page for more details!
There is a companion app available for iOS and Android to help you with cable selection and configuration.