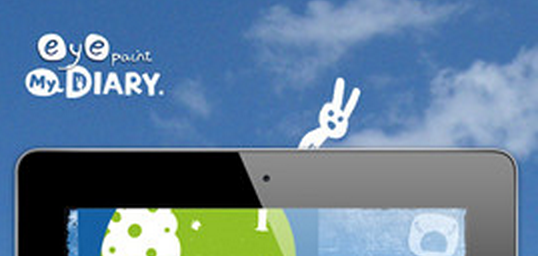 I'm always happy to bring you folks news about stuff that's free.  I'm a dork about it, I admit; I put it in all-caps (FREE!) with an exclamation point.  But the fact is, it tickles me.  Stuff in life can be very costly as we all know, and to me the word FREE is like a tiny ray of light in a dark room.  It's a tiny joy in what can sometimes be a difficult world.  (Hyperbolic, yes, but that's how I feel.)  And I won't embarrass myself by mentioning how many times I've almost typed "fee" instead of "free".  Ah English, with its hidden ironies for us keyboard jockeys!
In any event, today's FREE item Eye Paint MyDiary, is an app for your kids that lets them create "amazing illustrations" along side famous artists by completing those artists illos and making them your kids' own.  You can use your iPhone's cam to capture patterns, textures, and colors and then interactively fill the empty areas in the drawings.  (You can see a video demo on the Curious Hat web site.)
So if you want to nurture that creative impulse in your kids, maybe this is a good app for you.  And in case I didn't make it clear enough, instead of the usual one buck price, this is totally FREE for the remainder of the day.  So surf on over to the iTunes store and take a look.  And if you do end up getting it, be sure to let us know what you think below.