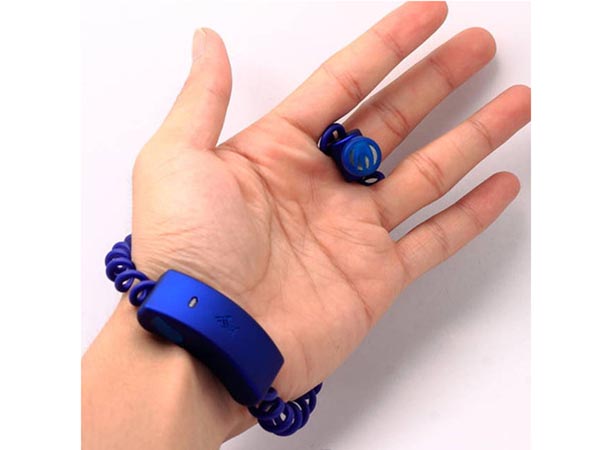 It's been a long day. You are simply exhausted. For many, the natural inclination is to take a quick snooze. But what happens if you are expecting an important call yet are so tired you can hardly move? Must you try to saw some logs with a phone in your pocket or wake up startled and frantically search for the phone ringing nearby? Fret no more friends, because USBFever has available on their site Earzee's Wrist Bluetooth Headset, the headset that stays on your wrist!
It has been said by Thomas Edison that  "Genius is one per cent inspiration, ninety-nine per cent perspiration." For the Wrist Bluetooth Headset owner, ninety-nine minutes of relaxation may be followed by Genius. Why so? Studies have shown that "power naps" may significantly enhance work performance and improve mental functioning.  The Wrist Bluetooth Headset may be a means of aiding the harried workforce, perhaps just by allowing a tired worker to field calls while resting the head on the hand, though it could be argued that misuse of such a tool might encourage workforce laziness. Only time will tell.
In any case, the Wrist Bluetooth Headset is a clever little device that works by allowing the user to wear the bluetooth receiver on his or her wrist and stretch the cable to wrap the speaker around a finger. Result for the tired person? Why, the ability to rest the head on the hand and lazily ambush any necessary incoming calls while at their desk. Better still, users can rest on the couch or in bed with the Wrist Bluetooth Headset snugly placed on their pillow arm and catch a few winks but still be able to answer phone calls by pressing the button on the side of the receiver (may require some chin practice for serious sleepers).
If nothing else, the Wrist Bluetooth Headset brings new meaning to the old phrase "Talk to the Hand!"
MSRP: $27.99
Supports iPad 4, iPhone models iPhone 3G through iPhone 5, Samsung Galaxy S1 to S4 series phones, as well as Samsung Galaxy Note and Note II
USBFever Wrist Bluetooth Headset