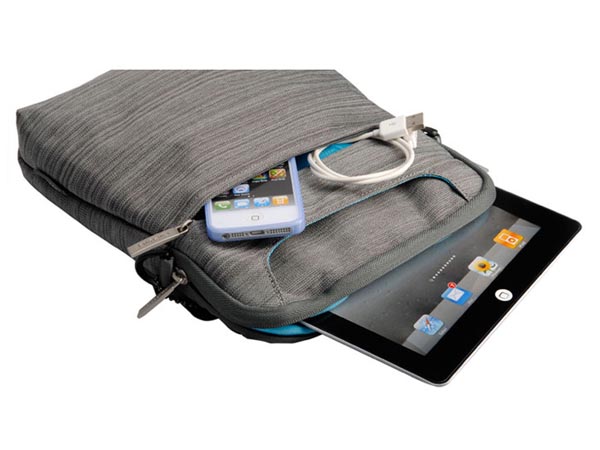 When I got myself an iPad, I quickly acquired a Tom Bihn Ristretto should bag in which to carry it.  I love my Tom Bihn bag; it's got a nice padded place for my pad, lots of pockets, a well-designed strap, and plenty of other accouterments.  But as much as I like it, it has some things about it which I wouldn't mind seeing improved, so I'm always glad to see competition.  For example, maybe a good solution for when my bag wears out is this one from USBFever.
The USBFever Mkeeper Gento sleeve provides you with protection your tablet.   It's made of a high-quality fabric with a memory foam inner layer for protecting your precious gear.  It also comes with a zipped front pocket for storing accessories, such as cables, chargers, spare cases, and whatever other gear you tend to lug around with you, and it's protected from the inner pocket so as to not risk damaging the screen of your tablet.  I don't know if it would be a good replacement for the bag I have now, but it's certainly worth a look, especially at the price.
Been looking for a new bag to keep your tablet (and other gear) in?  Maybe this is a good choice for you.  The USBFever Mkeeper should bag Gento goes for an MSRP of $33.99 and is available from their web site.  Check it out and, if you get yourself one, be sure to let us know what you think below!