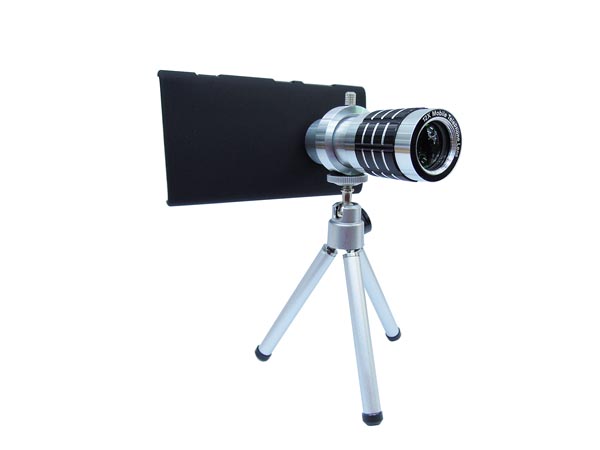 Just in case you folks were wondering, USBFever does not only make those case-and-lens combos only for the iPhone.  No sir!  USBFever is a bunch of equal-opportunity folks when it comes to producing tech gear.  Besides, it'd be kinda dumb to miss out on the Windows Phone portion of the market, right?  So I'm sure you'll be pleased as punch, Windows Phone lovers, to know that they've come out with a 12X telescoping lens for the Nokia Lumia 920.  Check it out:
The hard case comes with a tripod and tripod adapter, so you don't have to worry about it toppling over and smacking your precious device into the ground while you're taking your photos.  The lens itself is an aluminum-cased 12X telescope type, with a manual focus ring.  So you slip your Lumia into this baby, strap on the lens, hook it up to the tripod, and hey there ya go:  Ready to take high-quality photos of stuff 12x farther away.  (And no, I'm not going to ask you what you're wanting to take pictures of with which you would need a telephoto lens.  Not my business!  Nope!)
Got a Nokia Lumia and been looking to improve your photo-taking experience?  Well, maybe this is just the thing you've been waiting for!  You can get more information on it at the USBFever web site, where it's available for an MSRP of $36.99.  And if you end up getting yourself one, be sure to let us know what you think about it below!