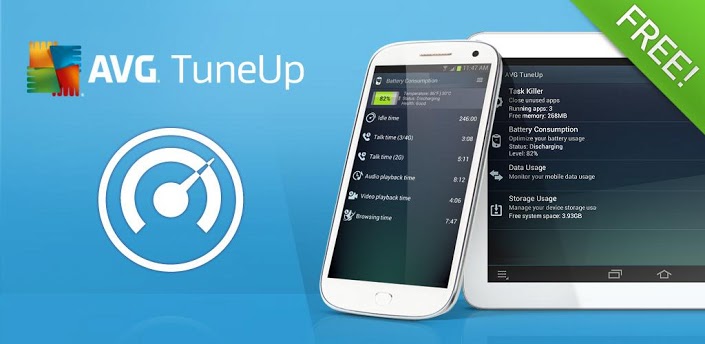 I've harped on it often enough, but we all know it to be the truth:  Smartphones suck up power like nobody's business.  It's not surprising, really; when you hold in your hand enough computing power to track all the weather on the planet, make phone calls to your friends, search Wikipedia, play CPU-intensive games, and do God-know-what you are using it for, you're going to suck up a lot of power.  So there's a couple of things you can do:  Get external batteries (I have bunch), and/or install tune up apps that help keep power usage to a reasonable level.  Because yeah, strapping on more batteries can solve your problem, sure, but it makes sense to deal with stuff at the software level too, don't you think?
The new TuneUP Android app by AVG helps you get improved performance from you Android gizmo by combining several tools to increase device performance, which includes a task killer, a battery saver, and a storage space manager.  The app also allows you to monitor their data usage. You can use it to fine-tune their device's performance to keep your device running as  smoothly as possible.
Got yourself an Android device and the power management isn't quite what you want?  Maybe this app is what you need.  It's available over on Google Play for Doug's Favorite Price of Free.  And if you download it and give it a go, be sure you let us know what you think of it below!